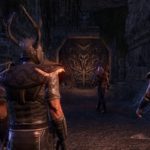 The Elder Scrolls Online si aggiornerà ad agosto per la prima volta dall'uscita di Morrowind avvenuta lo scorso 6 giugno. Le novità per il mmorpg di Bethesda e ZeniMax Online Studios si chiamano rispettivamente aggiornamento 15 ed il dlc Horns of the Reach.
I contenuti di quest'ultimo saranno disponibili tramite Crown Store in gioco e come parte dell'abbonamento ESO Plus.
IL DLC HORNS OF THE REACH OFFRE:
Nuovo dungeon: Bloodrot Forge
Nuovo dungeon: Falkreath Hold
L'AGGIORNAMENTO 15 INCLUDE:
Nuova mappa PvP Battlegrounds: Arcane University
Nuova modalità PvP Battlegrounds: Chaosball
La modalità PvP Battlegrounds è solo per i giocatori che possiedono ESO: Morrowind
Annullamento delle ricerche
Cronologia degli inviti nella gilda
Aggiornamento al sistema della valuta
Suggerimenti di combattimento personalizzabili
Nuove case e arredi per Homestead
Risoluzione di problemi e modifiche al bilanciamento di gioco.
L'articolo The Elder Scrolls Online, annunciati l'update 15 ed il dlc Horns of the Reach sembra essere il primo su IlVideogioco.com.
Fonte: The Elder Scrolls Online, annunciati l'update 15 ed il dlc Horns of the Reach