Quattro anni sulle spalle, una eccellente campagna su Kickstarter agli esordi ed un vittorioso contenzioso con contro King.com per la parola "Saga" (con i querelanti che rinunciarono ad andare avanti) sul titolo della loro prima fatica.
Stoic Studio, sviluppatore indipendente di stanza in Texas, Usa, fa approdare il primo capitolo della trilogia The Banner Saga su Switch. Già disponibile dal 2014 su Pc e dal 2016 per PlayStation 4 e Xbox One, ora anche la console ibrida di Nintendo gode dell'opera di questi sviluppatori. Ed eccoci parlare della versione Switch, uscita pochi giorni fa, lo scorso 17 maggio, sull'eShop dedicato.
AMBIENTAZIONE VICHINGA…
Una delle peculiarità di questo gioco è la sua ambientazione fantasy vichinga. Gli umani ed i giganti (i Varl) vivono in una coabitazione quasi "forzata" in un mondo letteralmente in decadimento. Le due razze che si sono comunque sopportate, adesso devono fronteggiare un nemico comune: i distruttori. E ci fermiamo qui con i dettagli.
Da questo nasce la trama ricca e sfaccettata di The Banner Saga che, ricordiamo, sarà una trilogia che si concluderà con il debutto del terzo capitolo a luglio. Tanti personaggi, principali e non, si alterneranno nei dialoghi, nelle scelte e sul campo di battaglia.
Il gioco, un gdr dai tratti strategici con sfumature d'avventura, o viceversa, offre un importante equilibrio tra le componenti menzionate. Le nostre scelte, peseranno molto sullo svolgimento del gioco, così come l'acume in battaglia nella griglia di combattimento. Ogni personaggio ha le proprie caratteristiche che possono essere migliorate grazie all'esperienza accumulata in battaglia. Si possono migliorare la resistenza fisica, la forza, la volontà (che ci permette di muoverci più lontano o di colpire più forte), e così via.
Ogni personaggio ha la propria classe ed il proprio massimale che se raggiunto sbloccherà una sorta specializzazione che aumenterà ancora di più l'efficacia delle proprie azioni. Ogni protagonista ha anche le abilità speciali, colpi particolarmente potenti o efficaci che possono fare la differenza.
Il turno si svolge in modo semplice, si sceglie se muoversi o riposare per guadagnare punti volontà e poi, se possibile (soprattutto se a portata), di attaccare il nemico selezionato con la mossa standard o quella speciale. I protagonisti sul campo di battaglia hanno due caratteristiche che possono essere evidenziate durante l'azione: i punti difesa segnalati dal sottofondo azzurro ed i punti forza/attacco contraddistinti dallo sfondo rosso.
Entrambi hanno importanza strategica. I primi tolgono difesa e preparano ad un attacco decisamente poderoso e risolutivo; i secondi determinano la forza con la quale verremo attaccati o con la quale attaccheremo. Più bassi sono, più lievi sono i danni. Inoltre, se questi vanno a zero, il nemico muore mentre i nostri eroi possono rimanere feriti e quindi aver bisogno di riposo per guarire, o addirittura perire. La battaglia si vince quando l'ultimo nemico cade… e si perde, ovviamente, se l'ultimo nostro eroe cade.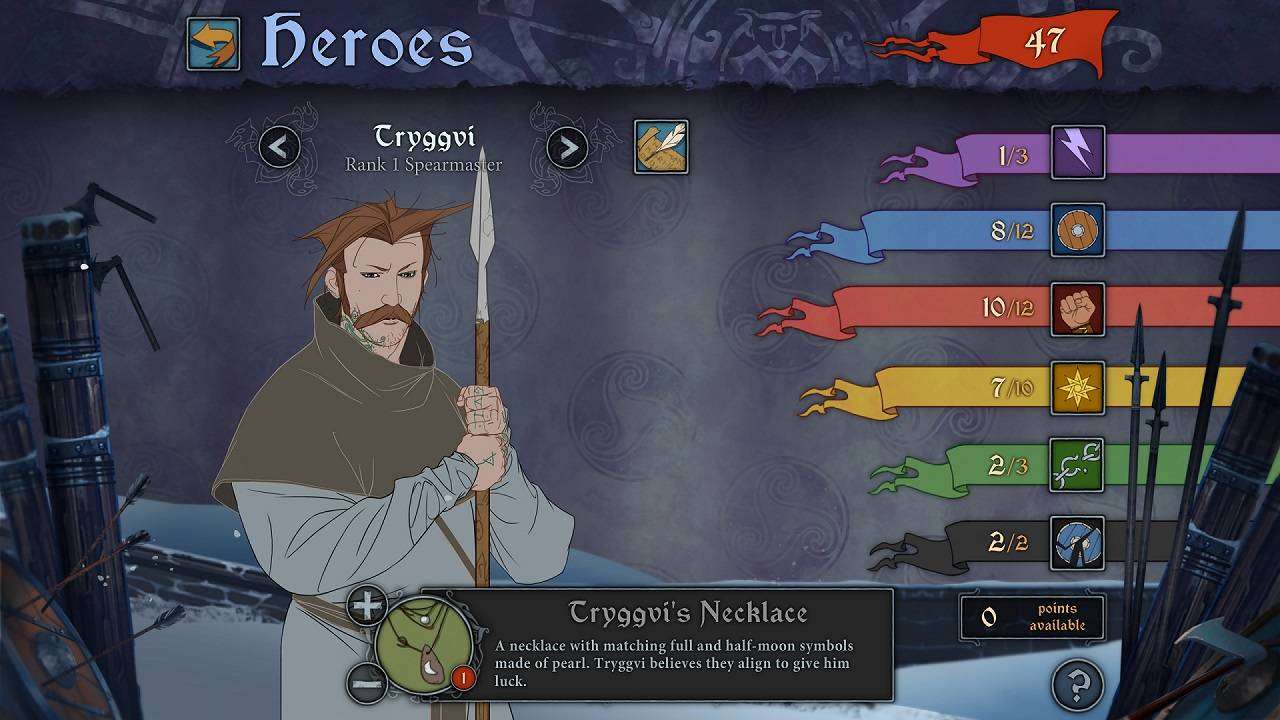 È possibile anche equipaggiare i nostri eroi con i vari oggetti che compreremo o troveremo. Questi miglioreranno uno o più caratteristiche. Prima della schermaglia sarà importante scegliere il nostro party e la posizione sulla griglia. Poi si potrà agire a turni.  Le mappe delle schermaglie saranno influenzate anche dalle ambientazioni e potranno esserci delle coperture da sfruttare.
I dialoghi saranno altrettanto importanti e da questi potranno determinarsi alleanze o malumori ma si possono prendere decisioni di altro genere.
C'è anche una parte gestionale perché i nostri personaggi guideranno una carovana in cerca di un luogo sicuro. Durante questo peregrinare lungo il mondo di gioco ci saranno degli eventi ed incontri che dovranno essere (appunto) gestiti. Si potranno anche effettuare delle soste per accamparsi o andare in qualche città dove sarà possibile riposare, gestire gli eroi ed allenarsi.
La difficoltà può essere cambiata in qualunque momento: facile, medio e difficile. Il grado di sfida è già buono in medio dove gli eroi potranno anche perire in battaglia se non riposati adeguatamente e se feriti mortalmente.
… IN UNA GRANDE DIMENSIONE ARTISTICA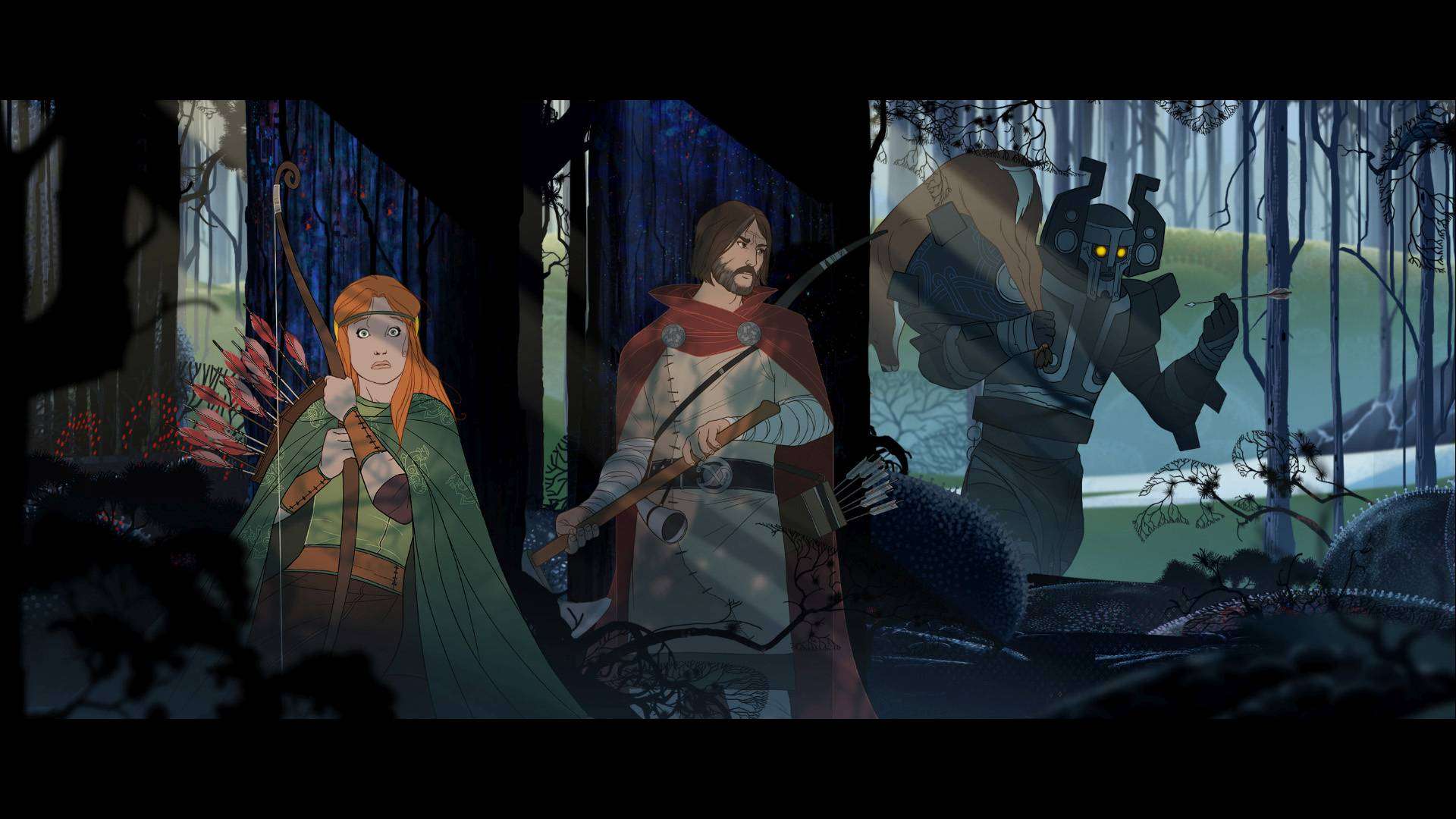 Ma fin da subito, la peculiarità maggiore di The Banner Saga è senza dubbio il suo aspetto. Graficamente superbo nelle sue scene, troviamo a tratti un dipinto in movimento. L'atmosfera fantasy-vichinga è sensazionale. Varia e ricca di dettagli, la grafica offre sempre un vero e proprio affresco degno dei film d'animazione.
E proprio a proposito di animazioni, possiamo segnalarle come piuttosto fluide e ben realizzate. Anche il comparto audio è di altissimo livello. I brani della colonna sonora sono scritti da Austin Wintory, un nome una garanzia.
Le musiche sono di atmosfera e di ottimo livello. Convincente anche il doppiaggio in inglese (con chiaro accento nordico).
PERFETTO PORTING DA MANUALE
L'operazione di porting di The Banner Saga, sull'ormai famosissima ibrida di Nintendo, è stata effettuata a regola d'arte. La grafica disegnata a mano sembra incastonarsi nella cornice del piccolo schermo di Switch come un preciso pezzo di un puzzle.
Apprendere delle gesta dei personaggi, combattere le battaglie a turni come il più blasonato XCOM o il famosissimo Heroes of Might & Magic non risulta mai frustrante o di pessimo gusto. Interfaccia grafica, testi e sottotitoli sono tradotti anche nella nostra lingua e godono della giusta grandezza per scongiurare difficoltà di lettura, soprattutto quando si tiene la Nintendo Switch tra le mani o sul tavolo. L'unico appunto da fare è che, in fase di portabilità, quando ci sono descrizioni o dialoghi, i sottotitoli arrivano ad occupare fino alla metà della schermata, andando a coprire in parte le splendide "tavole" disegnate e animate dai personaggi e dai fondali di gioco.
CON UNA MARCIA SUPERIORE
Il dettaglio che ci fa considerare la versione di The Banner Saga come una delle migliori (se non la migliore) che possiamo avere a disposizione è la possibilità di giocarlo interamente via touchscreen. Nulla che non si potesse fare già nelle versioni Android o iOs, verissimo, ma qui stiamo parlando dell'unica versione "casalinga" che, potendo essere portata anche in tasca, gode sia delle possibilità offerte dalle console da salotto che da quelle dei dispositivi portatili.
Va da sé che questo basta per rendere The Banner Saga per Nintendo Switch qualitativamente e quantitativamente superiore alle controparti PlayStation 4 e Xbox One. Impossibile fare confronti tecnico/grafici sulle prestazioni e la fluidità, essendo questo un gioco disegnato a mano e affidato a sequenze di narrazione, lettura e combattimenti a turni.
COMMENTO FINALE
The Banner Saga per Nintendo Switch è solo l'ultima versione dello stesso identico gioco che ha raggiunto Windows, Linux, Android e iOs nel lontano 2014 mentre è arrivato sulle console di attuale generazione, PS4 e Xbox One, dal 2016. È un videogioco tattico con elementi tipici del gioco di ruolo, che si può innestare nel genere dei titoli tattici quali XCOM ma di stampo di Fantasy, come Heroes of Might & Magic e Disciples.

The Banner Saga, dopo quattro anni, non ha bisogno di molte presentazioni e quello che possiamo dire in questa sede riguarda la qualità del porting su Nintendo Switch: semplicemente perfetto.

I valori aggiunti a questa versione, oltre alla portabilità sempre comodissima, arrivano da una gestione pressoché perfetta del sistema di controllo che può andare dalla gestione tramite tasti e levette a quella pienamente touchscreen. In ogni caso, The Banner Saga, si gioca che è un piacere e l'unico peccato diventa quello di lasciarsi fuggire un videogioco indipendente ben fatto e narrativamente migliore di tantissimi altri.
L'articolo The Banner Saga, Recensione Nintendo Switch sembra essere il primo su IlVideogioco.com.
Fonte: The Banner Saga, Recensione Nintendo Switch