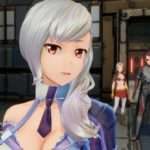 Sword Art Online: Fatal Bullet avrà il season pass. Lo ha reso noto Bandai Namco che ha svelato anche il dlc Ambush of the Imposters. Questo season pass includerà anche i dlc intitolati Betrayal Of Comrades e Collapse of Balance.
In Ambush of the Imposters sarà incluso un nuovo arco narrativo con un dungeon e un boss inediti. Seguendo i rumor su delle unità ArFA-sys nemiche, il protagonista e i suoi amici iniziano a investigare su queste voci con la cooperazione di Yamikaze, Dyne e Musketeer X…un'altra storia inizia.
Altri contenuti del primo dlc di Sword Art Online: Fatal Bullet includno:
Nuovi personaggi giocabili: Dyne, Yamikaze e Musketeer X (Alternative Gun Gale Online)
Nuova modalità di gioco Bullet Of Bullets: Con i loro personaggi, i giocatori possono combattere Kirito e altri protagonisti in questa nuova modalità offline
Modalità Deathmatch Multiplayer 4vs4 (disponibile in Hero Battle e Avatar Battle): Ora i giocatori possono lottare in team di 4 contro gli altri senza Boss nemici
Gli altri due dlc del season pass includeranno anche altri nuovi personaggi:
Clarence e Shirley (Alternative Gun Gale Online) per il dlc Betrayal Of Comrades
Alice e Eugeo (Alicization) per il dlc Collapse Of Balance.
Ambush Of The Imposters fa parte del season pass del gioco che includerà anche i futuri dlc.
L'articolo Sword Art Online: Fatal Bullet, annunciato il season pass sembra essere il primo su IlVideogioco.com.
Fonte: Sword Art Online: Fatal Bullet, annunciato il season pass