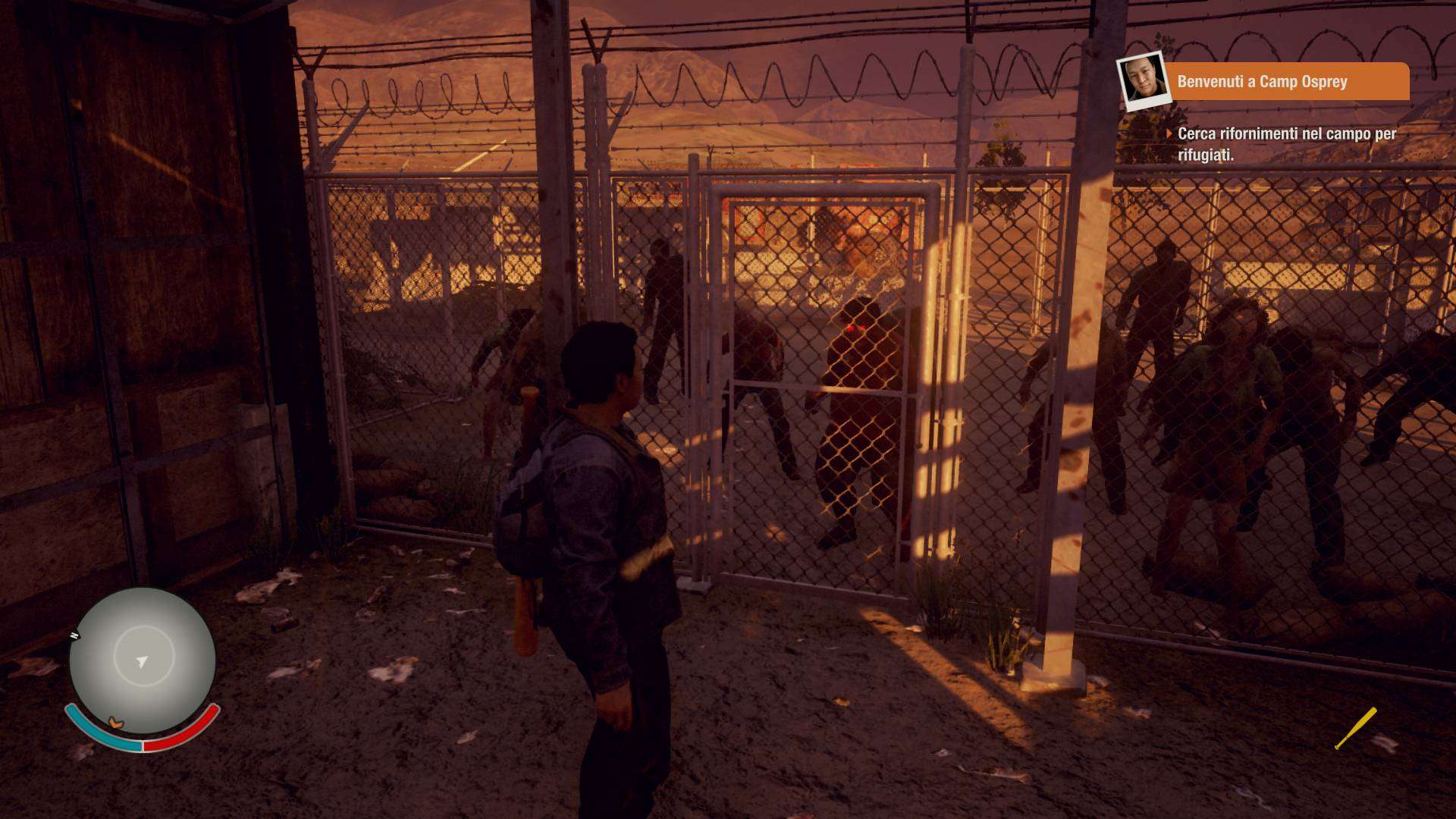 State of Decay 2 è l'ultima fatica di uno studio di sviluppo, Undead Labs, che è passato alla storia per aver dato alla comunità di appassionati di videogiochi di zombie un ottimo titolo di sopravvivenza, in terza persona, a dispetto dei difetti di gioventù e delle limitazioni del caso.
Stiamo parlando del primo State of Decay, pubblicato nel 2013 e, nonostante l'evidente spigolosità di grafica e gameplay, ha capitalizzato un buon successo di pubblico. Cinque anni dopo, dunque, la schiera di estimatori del gioco dei ragazzi di Washington torna nelle rinnovate lande del sequel, seguite da nuove generazioni di sopravvissuti, solo su Windows 10 e Xbox One.
STATE OF DECAY 2.0
State of Decay 2 poggia su solide fondamenta tecniche che rispondono al nome di Unreal Engine 4. Undead Labs si è trovata, dunque, un ottimo motore grafico per sviluppare la propria creazione, mentre Microsoft si è occupata di garantirgli un budget del tutto diverso – e superiore – a quanto gestito cinque anni fa. Il risultato, a primo impatto e dopo alcune ore di gioco, è quello sotto gli occhi di tutti. La sensazione forte è quella di giocare una versione potenziata in ogni sua parte del già interessante State of Decay, che soffriva la natura di titolo "low budget".
La stabilità tecnica ha permesso, agli sviluppatori, di dedicarsi di più e meglio al miglioramento e all'implementazione di piccole novità su quanto di buono era stato fatto. Il tentativo, secondo noi riuscito, è quello di offrire un'esperienza fluida e mai frustrante. Ce ne accorgiamo subito quando abbiamo a che fare con i primi zombi, da picchiare con armi di fortuna oppure da sforacchiare con le poche munizioni che riusciamo a racimolare. Anche le parti in cui si guida sono ben fatte, la sensazione verosimile delle vetture che sgommano su strade e sterrato è di buon livello.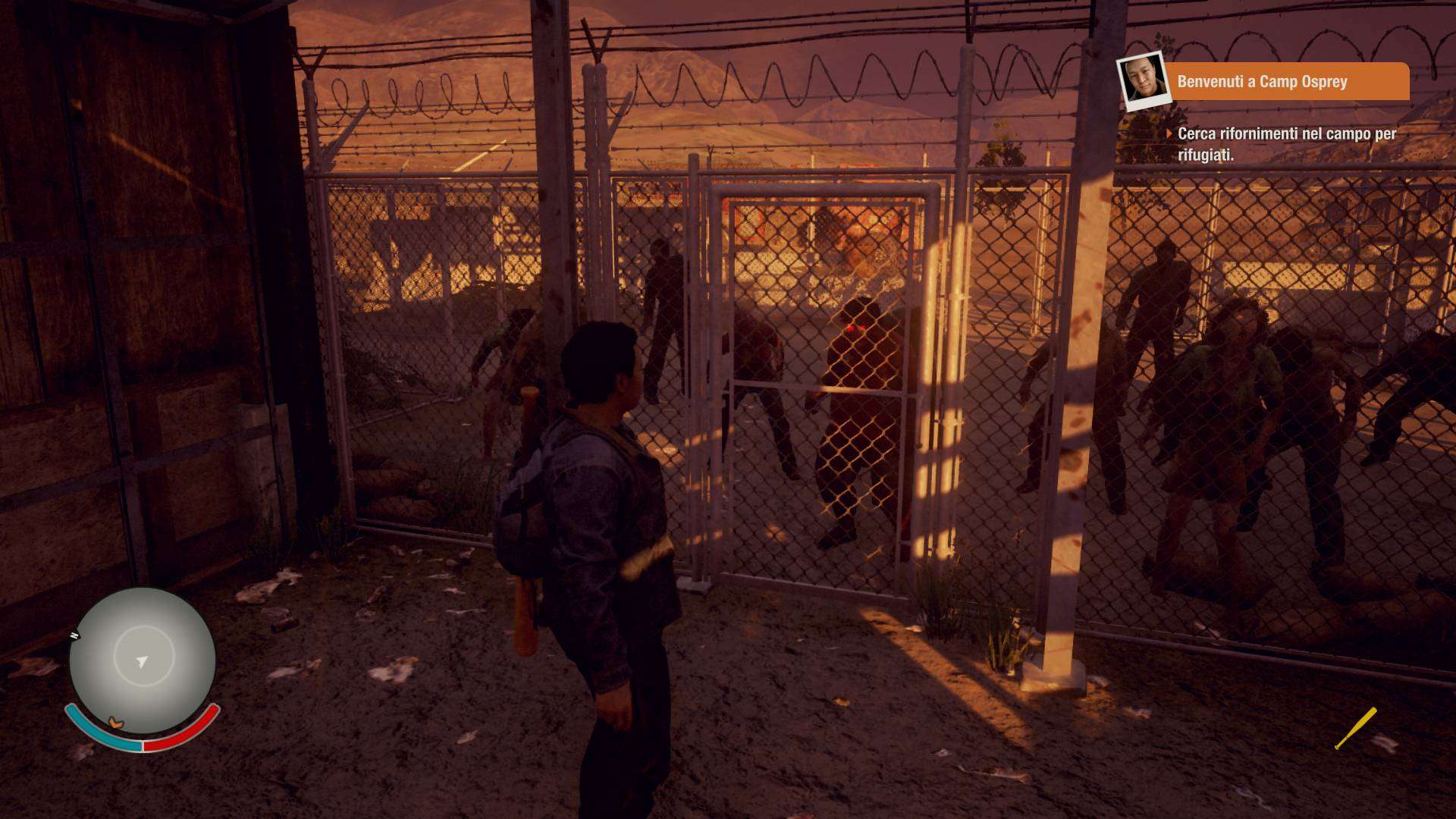 In State of Decay 2, gran parte del tempo lo trascorriamo esplorando, raccogliendo materie prime e, soprattutto, gestendo la nostra base, che è anche la nostra casa e il centro nevralgico da cui tutta la nostra sopravvivenza passa. Infermeria, dormitorio, "fucina" di armi ed equipaggiamenti, altro vario ed eventuale riposa qui e va dato in gestione ad altri superstiti che condividono, insieme al nostro alter-ego, quel tetto.
Ogni personaggio ha una propria personalità e – analogamente a quanto vediamo accadere in certi videogiochi di ruolo tipo The Elder Scrolls – più un personaggio effettua un tipo di azione, più bravo diventa a farla fino a quando può specializzarsi in una fra due scelte. Ad esempio ci è capitato di scegliere se rendere un personaggio più resistente oppure più capace di sostenere pesi nella borsa. A noi la scelta.
L'unico aspetto che non ci è piaciuto, ma non per questo bocciamo la scelta di gameplay (comunque motivatissima) è quello di non poter creare un nostro vero e proprio avatar. Siamo in grado e dobbiamo assolutamente controllare tutti i personaggi del rifugio. E' possibile giocare con un solo personaggio dall'inizio alla fine ma è al limite del proibitivo perché, verosimilmente, nessuno può fare tutto da solo in un contesto difficile come quello di State of Decay 2.
QUASI GRATIS E OVUNQUE
L'ultima fatica di Undead Labs può essere affrontata completamente in solitaria, con possibilità di mettere in pausa e prendersela con molta calma. Questo rende la possibilità di usare sempre e solo un personaggio più fattibile, sebbene non sia la cosa più saggia da fare. I personaggi soffrono fame, sonno e malattie e andando avanti nel gioco soffrono il fisiologico bisogno di fermarsi "ai box" per tornare pienamente operativi. Se così non fosse, affronterebbero il gioco con una quantità di malus tali da rendere la sopravvivenza davvero difficile.
Cambiare da un personaggio all'altro è la scelta più logica da fare, ma non sono tutti uguali: c'è chi è più portato al combattimento e chi più al pronto soccorso, per esempio. Tutte queste valutazioni gestionali decadono quando decidiamo di giocare con altri tre sopravvissuti controllati da giocatori veri.
A quel punto il titolo mostra il meglio di sé e spinge il gruppo a cooperare davvero per sopravvivere. Giocare con perfetti sconosciuti è un azzardo, perché i giocatori potrebbero essere frettolosi, fin troppo calmi, troppo prudenti o troppo aggressivi.
State of Decay 2 si trova incluso nell'Xbox Game Pass di Microsoft, il servizio in abbonamento che permette di godere di quasi tutta l'offerta Xbox One, senza limitazioni al prezzo di un corrispettivo mensile. Come ogni esclusiva Xbox One di ultima generazione, poi, è possibile godersela sia tramite console ammiraglia Microsoft che su Windows 10, con lo stesso account, senza ulteriore esborso.
COMMENTO FINALE
State of Decay 2 è un videogioco di sopravvivenza, in terza persona, sviluppato da Undead Labs, che è uno studio alle dirette dipendenze di Microsoft. E', pertanto, un'esclusiva limitata alle piattaforme Windows 10 e Xbox One (ovviamente anche Xbox One S e Xbox One X).

E' il seguito diretto e ufficiale del primo State of Decay, datato 2013 ma questa volta gode delle migliorie e della stabilità grafica di un engine rodato come Unreal Engine di quarta generazione. Giocandoci a fondo ci si rende conto che sembra di godere di uno State of Decay 2.0, cioè la versione riveduta, corretta e migliore di tutto quello che avevamo giocato già cinque anni fa.

Tecnicamente solido e bello a vedersi, joypad o tastiera e mouse alla mano risulta estremamente godibile e soddisfacente. Il grado di sfida è ben bilanciato, sempre stimolante, mai noioso. Gestire la propria base di sopravvissuti e avere a che fare con le enclavi che non rispondono direttamente alle nostre direttive non è mai stato così intrigante. Oltre alla solita sopravvivenza dalle minacce non-morte, molto tempo viene impiegato al fine di far funzionare al meglio le parti che compongono la base e fare andare, tutto sommato d'accordo, personalità anche contrastanti che vanno a convivere forzatamente insieme.

In definitiva, State of Decay 2 è certamente il survival a base di zombie, fortemente cooperativo, che stavamo tutti aspettando. Ben fatto, divertente, intrigante e mai banale. Consigliatissimo agli irriducibili delle piaghe non-morte, da valutare seriamente da coloro che amano il genere dei giochi di sopravvivenza in generale.
L'articolo State of Decay 2, Recensione Xbox One proviene da IlVideogioco.com.
Fonte: State of Decay 2, Recensione Xbox One