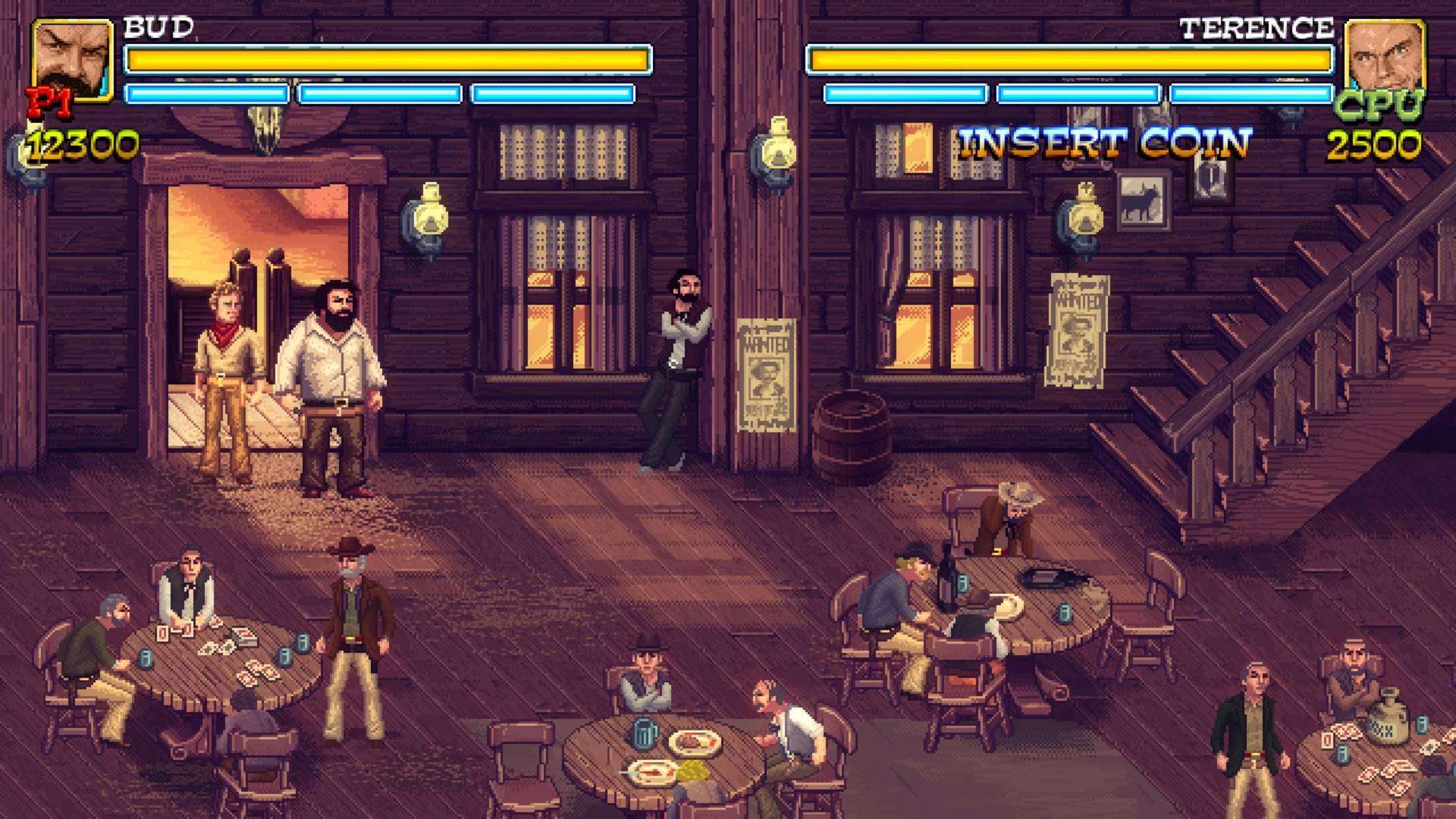 La mancanza di un gioco su Bud Spencer e Terence Hill è forse stata di quelle grandi pecche degli anni '80 e '90. Riflettendo è stata una mancanza passata sostanzialmente inosservata per parecchio tempo. Scommettiamo, però, che in tanti si sarebbero divertiti a cimentarsi in un titolo con i due attori protagonisti.
Probabilmente all'epoca di Amiga e console a 16 e 32 bit si pensava ad altro e non venne realizzato una cosa simile al progetto portato avanti da tempo Trinity Team.
Questo gruppo di sviluppatori italiani indipendenti amanti dei film della longeva coppia di attori ha finalmente concluso – sulla carta ma sappiamo che in quest'epoca non è così – lo sviluppo al proprio gioco-omaggio Slaps and Beans.
Nato inizialmente come Schiaffi e Fagioli (e quindi con titolo italiano), questo progetto ha fatto capolino su Kickstarter a fine 2016 raccogliendo qualcosa come 212mila e passa euro grazie a quasi 7.000 appassionati che hanno donato il loro contributo.
Grazie ad un'intervista agli stessi autori, avremmo successivamente scoperto che moltissimi affezionati provenivano dall'estero (con i tedeschi in grado di essere tre volte tanto i sostenitori italiani), un segno di internazionalità per un gioco che, nel corso del tempo è diventato molto più che un tributo.
E' anche diventato un modo divertente per fare una carrellata di quanto visto e rivisto nei film girati in tanti anni ed anche per ricordare con tanto affetto Bud Spencer, al secolo Carlo Pedersoli, campione di nuoto negli anni '50 oltre ad essere un artista a tutto tondo, venuto a mancare a fine giugno del 2016, che ha formato con Terence Hill (Mario Girotti) un duo dinamico molto apprezzato, come abbiamo visto, non solo in Italia. Una coppia mai sopra le righe e soprattutto amatissima dai grandi e piccini.
Con l'arrivo della versione "finale" su Steam uscita nelle scorse ore (esattamente il 20 aprile, ndr) per Pc Windows, Mac e Linux dopo quattro mesi pieni di Early Access e dopo le nostre Prime Impressioni in cui elogiavamo quanto fatto fino ad allora, siamo pronti a dirvi cosa ne pensiamo. Buona lettura.
BEAT'EM UP CLASSICO DAL CUORE MODERNO
Basterebbe già il titolo di questo paragrafo per descrivere perfettamente lo spirito del gioco. Bud Spencer & Terence Hill – Slaps and Beans è un beat'em up dallo stile classico. Questo calza a pennello per descrivere in un videogioco le gesta dei nostri due eroi. Un vestito di foggia sartoriale per raccontare le scazzottate furenti ma (incredibilmente) mai violente o cattive con tanti nemici che vengono sbeffeggiati a furia di calci, schiaffoni e mosse speciali tanto potenti quanto rozze e divertenti.
La struttura beat'em up rappresenta il grosso dell'ossatura del gameplay che permette di utilizzare uno a scelta tra Bud e Terence. C'è una grossa peculiarità (già evidenziata nella versione di accesso anticipato): anche in single player ed indifferentemente della scelta del personaggio, l'azione si svolgerà sempre in coppia.
I due nostri eroi, proprio come sul set dei vari film, cammineranno inseparabili con uno dei due personaggi guidato da una discreta intelligenza artificiale. C'è anche la possibilità di alternare il controllo dei personaggi e "switchare" in tempo reale tra Terence e Bud. La differenza tra i due personaggi è ovvia: Bud è possente e potente, un gigante buono; l'altro è più agile ed ha mosse più "fantasiose". E c'è anche una marcata differenza caratteriale che viene evidenziata dagli ottimi dialoghi ricchi di citazioni.
Ma non ci sarà soltanto da menare premendo i pulsanti del nostro joypad nel modo più veloce e preciso possibile soprattutto in alcuni mini-game. In alcuni scorci di stage cavalcheremo cavalli, ma andando avanti guideremo mezzi più contemporanei. Dopo i primi tre stage ci sarà la corsa con la mitica dune buggy mentre in altri ci si dovrà destreggiare per le strade di Miami per raggiungere un camion pieno di cattivoni ed altro.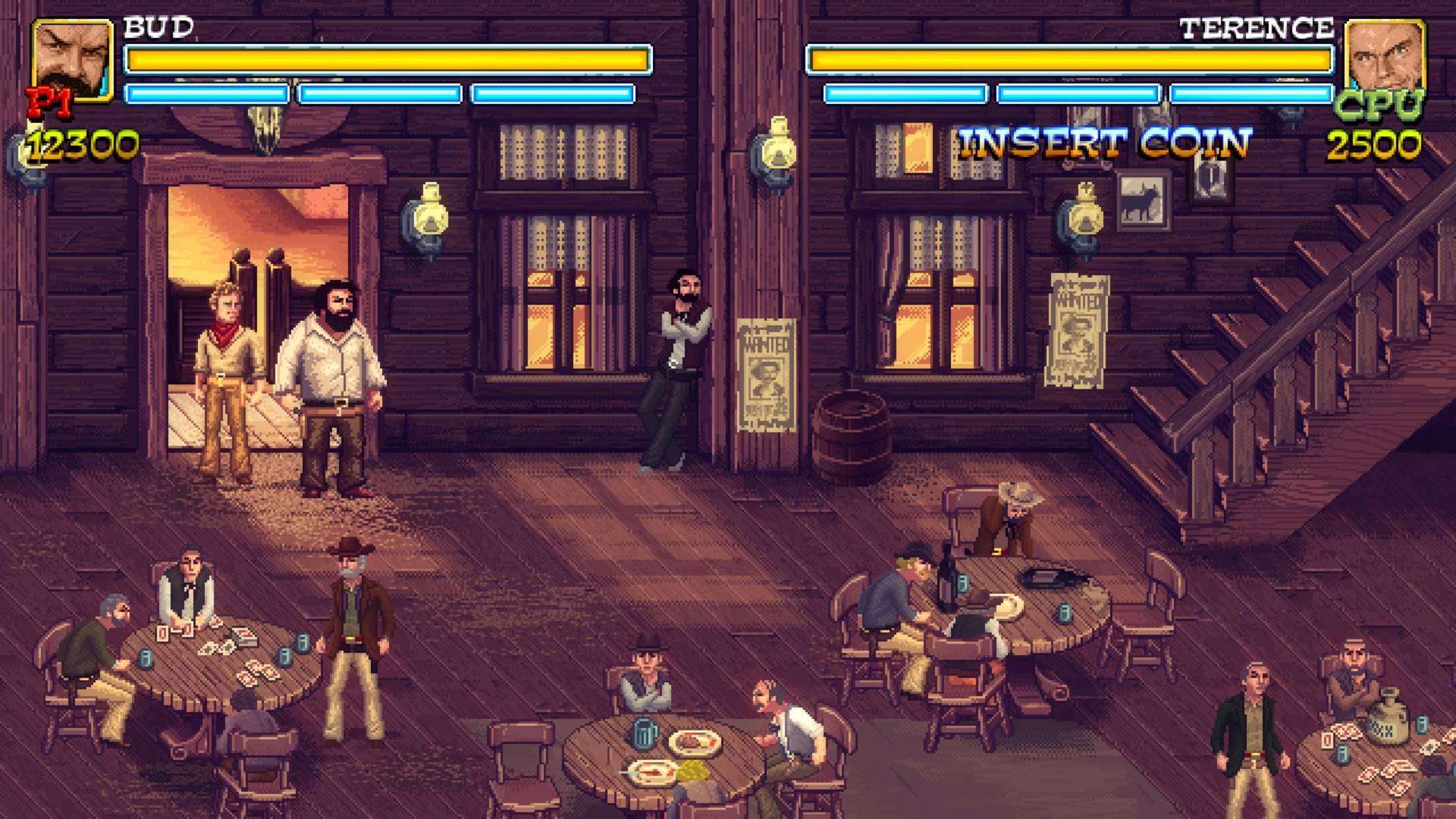 Ci è piaciuta la varietà del gameplay che prevede anche diversi minigames mentre le ambientazioni, ovviamente, si rifanno ai vari film nei quali Bud Spencer e Terence Hill sono stati amati protagonisti. Si va dalle atmosfere Western de "Lo chiamavano Trinità" a quelle più anni '70-'80 di "Altrimenti ci arrabbiamo", ma ci sono molti altri richiami ai classici del duo italiano che per ovvi motivi non anticipiamo perché siamo restii agli spoiler.
Il filo conduttore è ovviamente lieve, quasi invisibile, ma lega tutti gli stage e mini-giochi presenti. Tante le citazioni anche ad altri film cult ed in generale una bellissima atmosfera. Ma perché è un beat'em up classico dal cuore moderno?
Semplice: il classico è dato dal gameplay e dalle atmosfere, il moderno dall'ottima realizzazione tecnica di cui parleremo a breve.
Lo stile prettamente arcade ci ricorda molto Double Dragon ma in alcuni casi anche Metal Slug. Durante le lunghe fasi beat'em up avremo anche l'opportunità di raccogliere boccali di birra o pentole di fagioli per recuperare energia vitale ed è possibile tenere questi oggetti in mano per utilizzarli contro i malcapitati sgherri che ci vengono incontro. Ci sono attacchi speciali che consumano energia (la barra blu posta sotto quella gialla della vita) che viene ricaricata in automatico. Si respira Arcade.
In altri stage dovremo anche utilizzare pulsanti e leve per sbloccare porte o cancelli. Rispetto alla versione Early Access è stata migliorata notevolmente la sessione della dune buggy che prima era davvero problematica e che ora è stata limata e che offre varie alternative "strategiche" visto che memorizzando il tracciato si possono sfruttare alcune scorciatoie (se non potete batterli con la forza…). Inoltre, sono stati aggiunti ulteriori contenuti (il mini-gioco birra e salsicce, in tipico stile quick-time event ne vogliamo parlare?).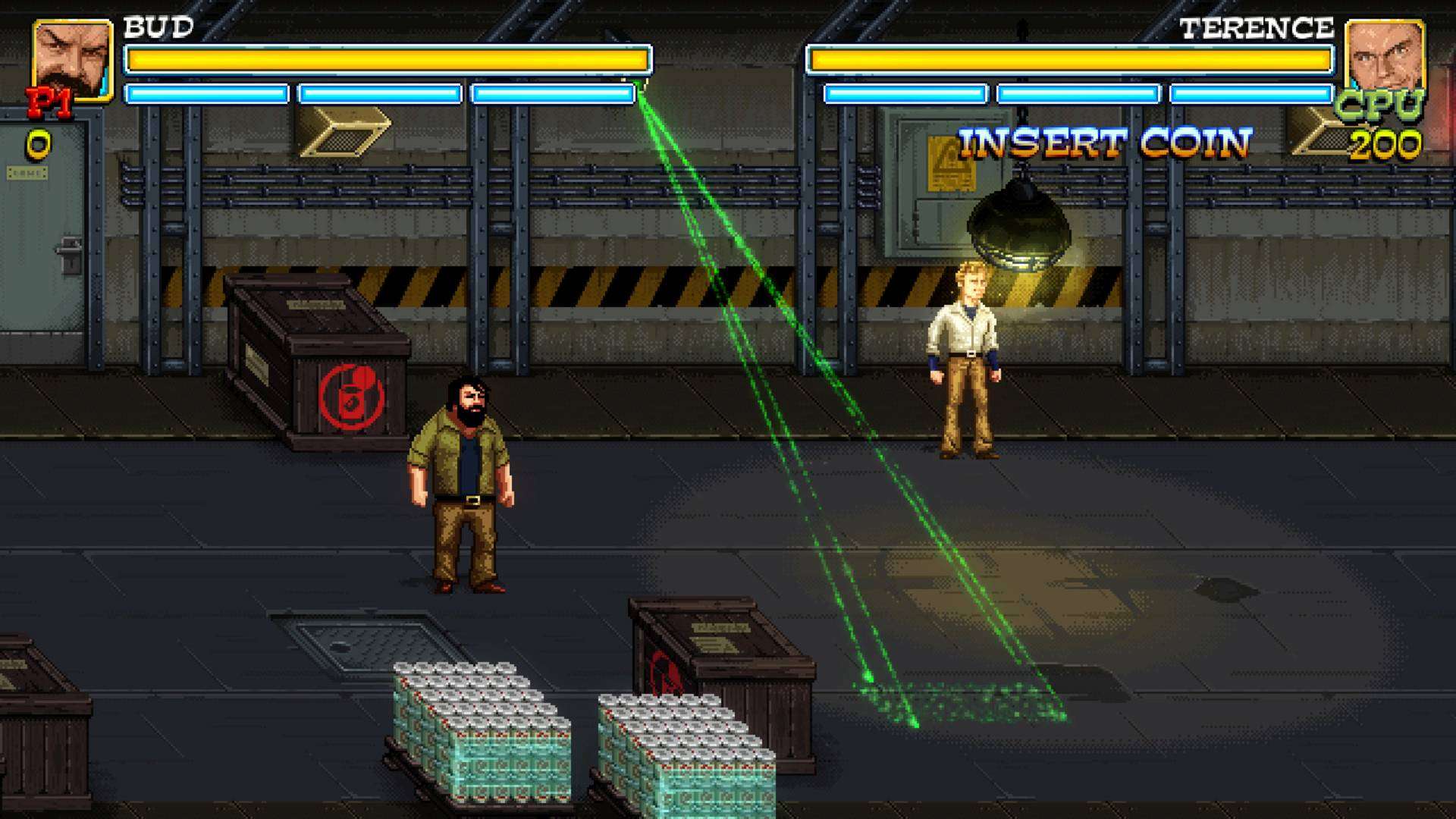 Le altre fasi di guida ci hanno ricordato quelle di Batman The Movie su C64 (ma solo per il tipo di gameplay). Insomma, tutto è molto intuitivo ed anche divertente, a patto che il genere piaccia e che questo genere poco impegnato ma più incentrato sui riflessi venga apprezzato.
Gli sviluppatori hanno provato, riuscendoci anche piuttosto bene, a diversificare le varie fasi di gameplay alternando anche boss-fight, mini-giochi e brevissime fasi stealth. I tre livelli di difficoltà ci permettono di rigiocare i vari stage più volte con gradi di sfida sempre più elevati. In "facile" veramente sarà una passeggiata di una manciata di ore. Giusto menzionare come per materializzarsi il Game Over tutti e due i personaggi dovranno essere accorto di energia. Se uno sarà senza energia vita, l'altro lo aiuterà.
A livello medio la sfida è più interessante mentre la longevità è standard per questo genere action.
PIXEL ART DA APPLAUSI, ANIMAZIONI FINISSIME E MUSICA DA FAVOLA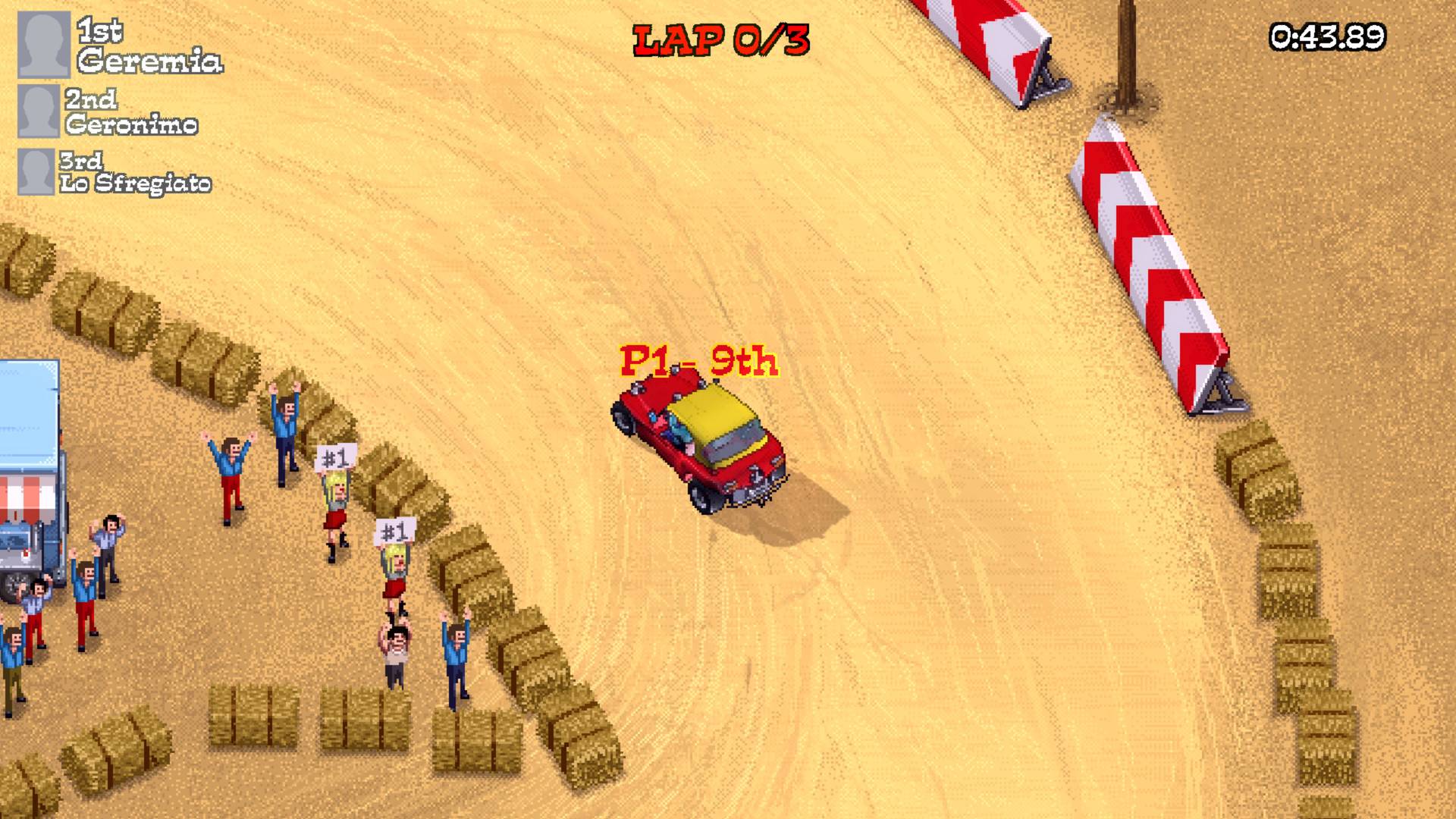 Il commento tecnico su Slaps and Beans è senza dubbio positivo. Se fin dalle prime fasi dello sviluppo avevamo apprezzato lo stile in pixel art, nella versione finale lo abbiamo trovato ancora più carico di dettagli, animazioni e finezze. Ci sono tanti spunti sui cui parlare.
Ogni stage è perfettamente stilizzato e rievoca a tratti in modo spettacolare i vari set che i giocatori andranno ad esplorare. Ci è piaciuto moltissimo il vecchio West al punto che se fosse stato ambientato esclusivamente li avremmo comunque applaudito. Chiaramente gli autori hanno voluto diversificare il tutto, passare dai cavalli alle moto, alla dune buggy alla classica auto di lusso con le corna da toro di immane "tamarraggine" (ma in pieno stile Texas?) ed ovviamente hanno avuto ragione. Si respira letteralmente aria e pixel di anni '80. Un'atmosfera irripetibile.
Stupisce come anche in pixel art la dovizia dei particolari non manchino tante finezze soprattutto nelle animazioni. Spesso e volentieri vedremo i nostri due eroi impegnati in attacchi fantasiosi, come spesso accadeva nelle scene dei loro film. Fa sorridere, ad esempio, vedere Terence tirare in alto il boccale di birra per distrarre il nemico di turno e sorprenderlo con un pugno facendogli frantumare il bicchiere in testa. Per non parlare della doppia sberla in faccia (che in siciliano ha un nome ben specifico: "lampiata", ndr) di Bud al poveretto di turno.
I saloon, ma anche l'infinito super mercato dove ci si può prendere anche a colpi di frutta, una spiaggia da sogno, un villaggio immerso in un'isola remota, polverose strade e tante altre location si alternano e ci offrono un dolce turbinio di ricordi e malinconia.
Oltre alle animazioni ed alla bella grafica in stile 16 bit dove praticamente tutto è al suo posto comprese luci ed ombre e qualche effettino extra (nello stage dune buggy sono apprezzabili le nuvole di polvere alzate dalle nostre sterzate) per non dimenticare qualche chicca ed easter egg (perché troveremo qua e la tanti omaggi ad altre produzioni nazionali ed internazionali anche a livello di menzione), c'è da sottolineare una grandissima colonna sonora composta da 16 brani su licenza degli Oliver Onions, di Franco Micalizzi e di altri artisti. La raccolta Kickstarter è stata sfruttata bene in questo senso con i diritti per poter utilizzare questi brani che hanno contribuito a fare storia ed epica.
Queste possono essere ascoltate separatamente grazie alla funzione jukebox che si trova nel menu principale del gioco che apre con la colonna sonora di Bulldozer. E scusate se è poco. Non manca il "Coro dei Pompieri", la divertentissima "Whistle and Bell" (usata anche in un paio di documentari di fine anni '70 che parlavano di Formula 1, ndr), "Dune Buggy",  "Miami Supercops" ed altri classici.
Tutto perfetto? Quasi. Alcuni piccoli comportamenti dei due personaggi, soprattutto quando si passa da un protagonista all'altro, non convincono. È un po' come se gli zuccheri dell'intelligenza artificiale calassero di brutto. Nulla di particolare, per carità e la fortuna è che dalla versione Early Access diverse limature sono state effettuate. Ci piace anche menzionare alla fine uno scrolling è molto fluido e privo di incertezze.
COMMENTO FINALE
Bud Spencer & Terence Hill – Slaps and Beans (questo il titolo completo) è il gioco che se fosse stato pubblicato 20 anni fa avrebbe messo tutti d'accordo e siamo certi che sarebbero fioccati i 9,5 ed 10. Anche i 10 e lode volendo.

Ciò non toglie nulla al valore della produzione. Trinity Team ha svolto un lavoro a regola d'arte. Un piccolo gioiellino. Ben fatto a livello tecnico con un'ottima pixel art ricca di dettagli e fluida, una colonna sonora da favola visto che sono presenti 16 brani su licenza dei classici film del duo artistico formato dagli amatissimi Bud Spencer e Terence Hill che tanto hanno fatto ridere con spensieratezza grandi e piccini per anni ed anni.

Chi voleva un omaggio sicuramente è stato accontentato. Ma questo omaggio ha anche un buonissimo carattere perché artisticamente e tecnicamente si fa apprezzare in tutta la sua durata. Buono anche il gameplay che offre un buon grado di sfida, una discreta varietà ed una buona longevità. Avremmo preferito qualche stage e situazione in più ma probabilmente è altrettanto vero che con questo tipo di gameplay gli sviluppatori avrebbero rischiato di diventare un tantino ripetitivi. Ad onor del vero, però, i "completisti" ed i collezionisti di Achievements Steam potrebbero rigiocare più volte Slaps and Beans per conquistare tutti e 34 "trofei".

Questo omaggio a Bud Spencer e Terence Hill ci ha convinti sotto praticamente tutti i punti di vista. Un omaggio fatto con cuore, meticoloso e divertente soprattutto per gli amanti del gameplay vecchio stile. A conferma che le produzioni indie italiane sono spesso e volentieri di grande spessore. A questo punto, speriamo anche che il titolo sbarchi su console. Vedremo.
L'articolo Slaps and Beans, Recensione Pc sembra essere il primo su IlVideogioco.com.
Fonte: Slaps and Beans, Recensione Pc