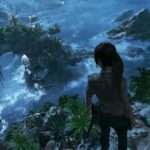 Come certamente saprete, Square Enix, Eidos Montréal e Crystal Dynamics due giorni fa hanno presentato ufficialmente Shadow of the Tomb Raider con tanto di trailer ed immagini che vi proponiamo in questo articolo.
Il nuovo capitolo dell'avventura che vedrà Lara Croft protagonista debutterà il prossimo 14 settembre su Pc, PS4 ed Xbox One. Ovviamente il gioco avrà migliorie su PS4 Pro ed Xbox One X.
In Shadow of the Tomb Raider, la nostra Lara dovrà sopravvivere a una giungla mortale, superare tombe terrificanti e andare avanti in uno dei momenti più bui della sua vita. Mentre cerca di salvare il mondo da un'apocalisse Maya, l'iconica protagonista finirà per diventare la Tomb Raider che tutti conosciamo.
Camilla Luddington, star dell'acclamatissimo reboot di Tomb Raider del 2013 e dell'eccellente Rise of the Tomb Raider, torna ancora una volta a interpretare Lara Croft in Shadow of the Tomb Raider con un'altra performance che publisher, sviluppatori, addetti ai lavori ed appassionati sperano sia memorabile.
Ecco alla fine, il trailer di presentazione intitolato "L'inizio della fine", alcune immagini, le prime, ed alcuni artwork finora poco diffusi (in qualche modo ci dobbiamo far perdonare per l'enorme ritardo), di quello che inevitabilmente diventerà uno dei titoli più attesi di questo 2018.
IMMAGINI
ARTWORK
L'articolo Shadow of the Tomb Raider, prime immagini, trailer sembra essere il primo su IlVideogioco.com.
Fonte: Shadow of the Tomb Raider, prime immagini, trailer