Nel 1987 la platea di Amiga, Commodore 64, Game Boy, Pc e praticamente ogni console degna di tal nome, viene a conoscenza di Wings of Fury: un videogioco di aerei della seconda guerra mondiale con visuale laterale. Prendeva l'impostazione di Defender ma la declinava su un'ambientazione contemporanea e la caricava con una presentazione grafica decisamente pionieristica.
Trentuno anni dopo giochiamo Rogue Aces, di Infinite State Games per Curve Digital, che sembra essere qui per reclamare l'eredità del suo antenato, questa volta su Nintendo Switch, PS4, Xbox One e Pc.
UN GIOCO PER LUPI SOLITARI
Aderente agli stilemi di una generazione a cavallo tra gli anni '80 e '90, Rogue Aces non prevede una modalità multigiocatore online né locale. Un solo pilota più accomodarsi e solo lui può (e deve) affrontare centinaia di aerei, carri armati, navi, portaerei e lanciamissili nemici.
Per farlo può gettarsi a capofitto in una delle poche modalità online presenti: Arcade Campaign, che è la campagna di missioni casuali di partenza; la Veteran Campaign, che si sblocca al conseguimento di 100 incarichi nella campagna precedente e l'abbattimento del "Barone", un asso dell'aviazione nemica; la Frontline Campaign che ci chiama a conquistare un'isola dietro l'altra mentre il nemico fa lo stesso, su un arcipelago di trentacinque isole. Non mancano le varianti "arcade" prime di ogni fondamento di campagna, tipo il Survival Mode, che fa somigliare il tutto al recente Luftrausers di Devolver Digital.
PRATICAMENTE PERFETTO
Graficamente parlando, Rogue Aces si presenta come un gioco praticamente perfetto. Nessun bug visivo, estrema pulizia grafica e anche piccoli dettagli che fanno la differenza. Un esempio? Se l'aereo viene fatto sfrecciare radente all'acqua, questa si increspa realisticamente.
Altri dettagli da segnalare riguardano una verisimile spiegazione dei danni subiti dal nostro apparecchio, che può essere lesionato – anche gravemente – alle ali, al motore, alla coda al serbatoio e questo incide subito sulla manovrabilità o sull'efficienza in combattimento. Se non fossimo attenti alle forze di spinta e di inerzia, potremmo anche trovarci in un pericoloso stallo che porta l'aereo a precipitare a peso morto.
Il ciclo del giorno e della notte garantisce una sensazione di progresso nel tempo e lo stile dei colori ne giova, non offrendo sempre e solo la stessa scala cromatica. I livelli sono generati casualmente e questo aiuta il gioco a non passare per estremamente prevedibile o piatto. La presenza di missili aria-aria, bombe aria-terra e mitragliatrici standard dell'aereo concorrono a dare un minimo di profondità ad un sistema di combattimento che, già così, non si presenta come campione di varietà.
POCO VARIO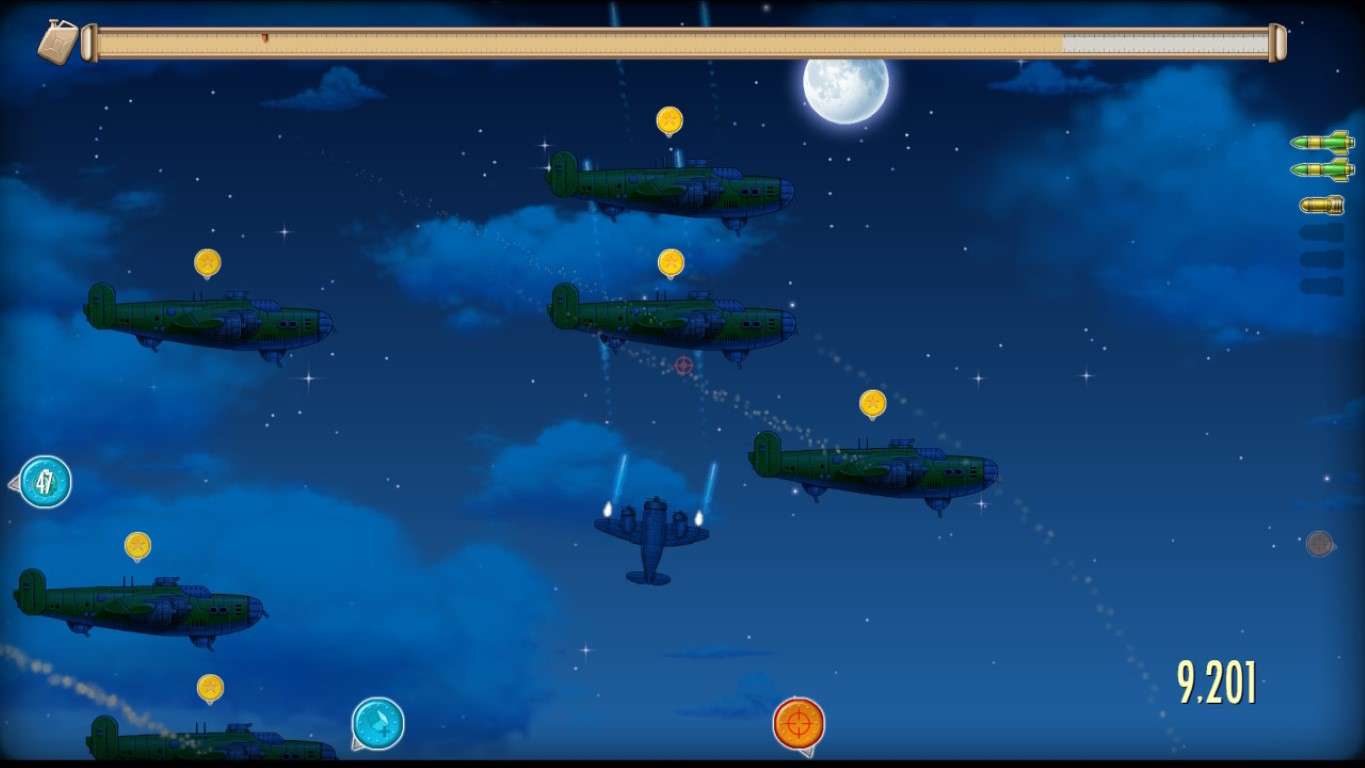 E' è proprio la varietà che si va cercando negli elementi del gameplay che viene a mancare dopo qualche ora di gioco. Nessun aereo in alternativa a quello di partenza, nemmeno poterne cambiare la colorazione è permesso. Non si può decidere quali e quante munizioni portare con sé: è tutto deciso a priori. Non si avverte né si riceve un'effettiva ricompensa per tutte le missioni che si compiono.
Quando completiamo una campagna di gioco o accumuliamo tanti punti esperienza quanto basta per incrementare il livello del nostro profilo riceviamo: modalità aggiuntive quali la Frontline Campaign e la Veteran Campaign.
Lo sblocco di modalità arcade come quella Survival che ci ha ricordato tanto i fasti di Luftrauser di Devolver Digital. Una manciata di potenziamenti (di numero pari al livello del nostro profilo) tra cui sceglierne uno per migliorare sensibilmente l'efficienza di una parte del nostro aereo: maggior rateo di fuoco, più danni, più accelerazione, più manovrabilità, più armatura.
Manca quel piccolo pezzo di un puzzle altrimenti perfetto. Già così come si presenta, Rogue Aces, risulta ben fatto, piacevole, divertente e instancabile. Perfetto nei ritagli di tempo e tra un gioco molto impegnativo e l'altro: non perché Rogue Aces sia facile (la modalità veterano non ha niente da invidiare a War Thunder), ma perché non offrendo una trama degna di tal nome e mancando un sistema di progresso tale da farci spremere le meningi, non lo riteniamo così complesso o impegnativo rispetto a tanto altro.
Essendo praticamente unico nel suo genere, è e resta una scelta assolutamente valida se si cercasse un degno erede al fu mitico Wings of Fury del 1987.
COMMENTO FINALE
Rogue Aces è un videogioco di aerei in due dimensioni che somiglia in tutto e per tutto al vetusto Wings of Fury per Amiga. Ovviamente i trentuno anni di differenza si fanno sentire tutti sul fronte della grafica, molto fluida e pulita rispetto al passato. Anche sul fronte sonoro si deve spendere due righe: musiche dinamiche ed effetti sonori efficaci.

Non mancano le finezze grafiche come l'acqua, che si increspa al passaggio radente dell'aereo, i dettagli di navi, aerei nemici, truppe e carri armati non sono pochi e il tutto è realizzato a regola d'arte. Non abbiamo riscontrato difetti di programmazione o bug di alcuna sorta.

A fronte di una pulizia grafica d'eccezione fa da pari un impianto di gameplay semplice e ben fatto. Gestire la manetta, le cabrate, gli stalli e le (poche) armi a disposizione non è mai stato così facile e le ore scorrono piacevolmente durante le partite.

Ore, si, perché pur apparendo come un gioco da toccata e fuga, presto si accumula del tempo di gioco intorno ad esso. La modalità campagna ha due gradi di difficoltà: normale e veterano; non mancano le modalità arcade tipo il survival, che fa somigliare Rogue Aces a Luftrausers) e la campagna "Frontline" che è ben più impegnativa di quella normale.

Concepito per cuori solitari, Rogue Aces funziona in tutto meno che su una parte: quella della varietà. Si controlla sempre lo stesso aereo e si sparano sempre le stesse munizioni. Non sappiamo se con degli aggiornamenti futuri o Dlc a pagamento sarà possibile, in futuro, ottenere un po' più di carne da mettere al fuoco. Quella che c'è, lo ribadiamo, è buonissima, ma anche poca.

Il gioco, sviluppato da Infinite State Games e pubblicato da Curve Digital, è stato provato nella sua versione Nintendo Switch ma è disponibile anche su Steam, Xbox One e PS4. E' una piccola oasi di divertimento anni '80, rispetta l'antica tradizione ma impone una sua personalità: in definitiva un piccolo gioiellino. Un miracolo da 130 Mb.
L'articolo Rogue Aces, Recensione Switch sembra essere il primo su IlVideogioco.com.
Fonte: Rogue Aces, Recensione Switch