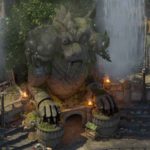 Obsidian Entertainment e Versus Evil hanno annunciato la prossima pubblicazione del secondo dlc a pagamento di Pillars of Eternity II: Deadfire, annuncio che è stato accompagnato dal primo trailer ufficiale, visibile in basso. Tale contenuto aggiuntivo, intitolato Seeker, Slayer, Survivor, è previsto per il prossimo 25 settembre.
Il dlc in questione, pare, sarà pesantemente incentrato sul combattimento, in quanto offrirà al giocatore un'arena dove far combattere il proprio party contro ogni genere di mostri e avversari, secondo tre tipologie di sfide diverse: in "Seeker" il giocatore dovrà cercare una soluzione inusuale per abbattere il nemico, "Survivor" consisterà in una sorta di modalità sopravvivenza ad ondate, e infine "Slayer" sarà fondato su classici combattimenti all'ultimo sangue.
Il lancio di Seeker, Slayer, Survivor sarà accompagnato da una patch gratuita con tantissimi bugfix e una pletora di modifiche al bilanciamento.
L'articolo Pillars of Eternity II: Deadfire, annunciato il secondo dlc Seeker, Slayer, Survivor proviene da IlVideogioco.com.
Fonte: Pillars of Eternity II: Deadfire, annunciato il secondo dlc Seeker, Slayer, Survivor