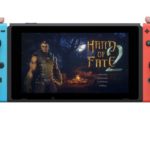 L'ottimo Hand of Fate 2, action gdr firmato da Defiant Development raggiungerà i lidi Switch la settimana prossima, ovvero il 17 luglio. Ecco anche il trailer di lancio che vi proponiamo.
Già uscito su Pc, PS4 ed Xbox One, questo titolo indie permetterà anche agli utenti della console ibrida di Nintendo di cimentarsi nella raccolta di carte e costruire un deck personalizzato di equipaggiamenti, nemici, incontri, oggetti e sorprese per disegnare le proprie sfide.
Una volta combinate, le carte comporranno una sorta di dungeon che i giocatori dovranno esplorare. Ogni decisione sarà importante e comunque varierà il corso degli eventi in quella partita.
Il sequel dell'originale, scaricato oltre 2 milioni e mezzo di volte, offre una serie di aggiornamenti, nuove sfide, nuove minimappe ed altre caratteristiche come un sistema di combattimento perfezionato ed una storia più approfondita.
La versione Switch di Hand of Fate 2 includerà anche i dlc che sono stati realizzati da novembre dello scorso anno ad aprile ed altri contenuti che saranno aggiunti successivamente il lancio. Aggiungiamo noi che sarà interessante provare il gioco in modalità portatile. Il titolo, sottotitolato anche in italiano, costa 24,99 euro.
L'articolo Hand of Fate 2 debutterà su Switch a breve proviene da IlVideogioco.com.
Fonte: Hand of Fate 2 debutterà su Switch a breve