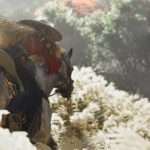 Spettacolare. Non ci son tanti altri aggettivi per descrivere il video e le immagini di Ghost of Tsushima che Sony ha mostrato e diffuso durante il suo evento all'E3 2018 di Los Angeles.
Il Giappone feudale riprodotto da Sucker Punch è impressionante dal punto di vista tecnico. Da capire il gameplay finale ma la software house (già capace di realizzare la serie Infamous) non è nuova ad exploit importanti.
L'ambientazione ci porta alla fine del 1200, al tempo delle invasioni mongole, dove katane e combattimenti con altri armi bianche la fanno da padrone.
Vi lasciamo al video ed alle immagini davvero dettagliatissime. A seguire alcuni dettagli.
DETTAGLI
Tra i dettagli spiegati dal game director di Ghost of Tsushima, Nate Fox, si parla anche dello stile minimalista. È tutto molto pulito e coerente a quella che è l'estetica giapponese. La demo dell'E3 2018 non fa vedere l'interfaccia utente per offrire un maggiore impatto cinematografico (e, a detta nostra, per quel poco che si vede, il risultato è riuscito). Nel gioco, però, scrive Dualshockers, ci saranno comunque delle indicazioni sullo schermo.
Gli sviluppatori vogliono che l'effetto immersivo degli utenti sia il più forte possibile. Tre parole chiave nell'isola di Tsushima, e più in generale nel gioco: Fango, Sangue e Acciaio.
Sul gameplay, Fox ha affermato che il personaggio avrà un sistema di progressione e che ci saranno delle dinamiche stealth. Il samurai dovrà migliorare le proprie abilità per avere la meglio su avversari molto potenti e quanto mostrato nel video ci porta in una missione secondaria non legata alla storia principale.
Jin e Masako che abbiamo visto nel filmato affrontano anche un ambientazione open world e non un'area chiusa.
L'articolo Ghost of Tsushima, trailer, immagini e primi dettagli proviene da IlVideogioco.com.
Fonte: Ghost of Tsushima, trailer, immagini e primi dettagli