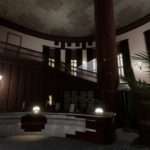 Dan Smith, vincitore del premio BAFTA Young Game Designer, e il publisher Ripstone Games hanno presentato ufficialmente il primo materiale di gameplay di The Spectrum Retreat, un titolo ad enigmi in prima persona previsto prossimamente per Pc, PlayStation 4, Xbox One e Nintendo Switch. Il titolo si mostra, come potete vedere in basso, con ben 11 minuti di gioco tratti da un gameplay commentato direttamente dal creatore del gioco.
The Spectrum Retreat ha luogo in un vicino futuro, in un inquietante hotel al sicuro al resto del mondo. Esplorando la struttura, il giocatore potrà scoprire i misteri che si celano dietro l'albergo, come pure i motivi per cui il protagonista si trova lì, grazie ad un gameplay basato sui puzzle e sulla risoluzione di enigmi fondati sull'utilizzo dei colori, della fisica e dell'immagine visiva.
L'articolo Ecco 11 minuti di gioco per The Spectrum Retreat sembra essere il primo su IlVideogioco.com.
Fonte: Ecco 11 minuti di gioco per The Spectrum Retreat