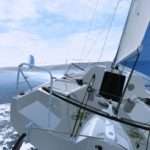 Orbcreation, uno studio indie composto da una sola persona, e l'editore The Irregular Corporation hanno ufficializzato la data di lancio di Sailaway: The Sailing Simulator.
Il titolo dedicato agli appassionati di vela, infatti, abbandonerà, dopo quasi un anno di permanenza, la fase di accesso anticipato su Steam il 27 febbraio.
Sailaway può essere utilizzato per imparare a navigare o per migliorare le proprie abilità, per disputare regate virtuali o per fare pratica in vista di una lunga traversata. Il gioco simula la navigazione in tempo reale attraverso tutti gli oceani del mondo, e dunque per compiere lunghe tratte saranno necessari mesi anche nel mondo di gioco, online e persistente.
Gli skipper virtuali avranno la possibilità di ricevere aggiornamenti della propria imbarcazione via mail, con tanto di dati meteorologici in tempo reale forniti dalla NOAA, in maniera tale da poter pianificare le proprie rotte al meglio.
Ogni elemento che influisce sulla traversata, breve o lunga che sia, è stato ricreato nel dettaglio con attenzione maniacale in Sailaway, dalla volta celeste che accompagna il viaggio, fino all'incidenza dell'umidità sull'imbarcazione.
I capitani e gli equipaggi dovranno imparare a issare le vele, tirare gli argani, terzarolare, effettuare le manovre di alafuori e alabbasso, di virata, paterazzo e tanto altro ancora. I navigatori meno esperti, invece, potranno imparare con calma tutte le nozioni necessarie e avranno a disposizione una serie di aiuti per automatizzare alcune operazioni.
Il breve periodo in Accesso Anticipato ha permesso la prova e il bilanciamento di alcune funzioni prima del lancio. Orbcreation ha implementato una notevole varietà di imbarcazioni, come la Nordic Folkboat, uno sloop da regata di 50 piedi che può diventare un catamarano. I capitani hanno anche la possibilità di personalizzare la propria imbarcazione creando livree uniche da applicare sul proprio scafo attraverso lo Steam Workshop, condividere la propria posizione con altri giocatori, utilizzare chat di gruppo private e avere traccia dei propri progressi attraverso gli Achievement di Steam.
CARATTERISTICHE DI GIOCO
Sailaway è stato progettato per simulare le meraviglie della navigazione a vela nel modo più realistico possibile. Ciò significa innanzitutto cura dei dettagli.
Vero orientamento delle vele
Qualsiasi controllo che si possa trovare su una vera barca a vela è disponibile anche su Sailaway. I giocatori useranno scotte e drizze per ottimizzare la forma delle tue vele e guadagnare ogni secondo per il vostro viaggio o la vostra gara.
Vere condizioni climatiche
Le nuvole, il vento, la nebbia, la pioggia e la neve riproducono il meteo reale fornito dall'Amministrazione Nazionale Oceanica e Atmosferica (NOAA). Ciò significa che si possono usare vere previsioni del tempo, diffuse dal vostro servizio meteo preferito, per pianificare il vostro viaggio.
Vere onde
Sailaway si propone di simulare dettagliatamente la conformazione delle onde basandosi sulla storia della direzione e della velocità del vento, così come su correnti, profondità dell'acqua e vicinanza di isole o di secche. Il Mare del Nord ha onde diverse da quelle dell'Oceano Atlantico e del Pacifico del Sud e ogni tipologia presenta sfide peculiari.
Vera acqua
Il colore delle acque in cui navighi, dal blu dei fondali incontaminati al marrone torbido dei fiumi fangosi, è il risultato di molti elementi. Sailaway adatta il colore dell'acqua in base a profondità e altri fattori per renderla il più possibile realistica.
Vero cielo
I nostri antenati solcavano i mari orientandosi con le stelle; per questo gli sviluppatori hanno posizionato correttamente sole, luna, pianeti e stelle. È presente anche una comoda funzionalità che evidenzia le costellazioni, ma se il cielo è nuvoloso la barca sarà avvolta dall'oscurità, proprio come nel mondo reale.
Vere mappe
La navigazione è supportata da una mappa interattiva dove visualizzare il mondo intero o fare lo zoom fino a individuare piccole insenature. Vengono mostrate le secche e le zone dove l'acqua è profonda, le rocce, le boe di segnalazione, i fari e tutto ciò che serve per viaggiare in sicurezza.
VELEGGIATE CON STILE
Sailaway offre una grande varietà di barche curate in ogni dettaglio, che possono essere personalizzate in centinaia di modi diversi con le funzioni di gioco oppure caricando le vostre creazioni personali per dare un tocco speciale alla tua imbarcazione. Questo grazie al Workshop di Steam che permette di condividere i vostri design con altri marinai e lasciarli a bocca aperta.
Cruiser 11 m
Un Cruiser da 11 metri dalle buone prestazioni. Possiede ogni assetto di vela di cui un marinaio ha bisogno.
Mini Transat
Una piccola barca per marinai esperti. Naviga in modo simile ai dinghy ed è molto veloce a mezza nave. Dotato di ogni sorta di assetti e vele.
Rosa dei Caraibi
La grazia dell'aspetto e la bontà della fattura delle barche di un tempo si rispecchiano nella Rosa dei Caraibi. La lunga chiglia la rende facile da condurre.
Catamarano da crociera
L'imbarcazione perfetta per esplorare le isole del Pacifico. Navigazione docile, sbandamento ridotto e robusto come uno scoglio.
Performance Cruiser 15 m
Una barca molto veloce, quasi da competizione. Destinata ai lupi di mare che sanno spingere al limite le proprie imbarcazioni.
Nordic Folkboat
Un'imbarcazione piccola ma piena di grinta. L'ideale per imparare a veleggiare, poiché bisogna gestire solo la randa e il timone.
L'articolo Sailaway: The Sailing Simulator è pronto per il debutto su Pc e Mac sembra essere il primo su IlVideogioco.com.
Continua la lettura di Sailaway: The Sailing Simulator è pronto per il debutto su Pc e Mac →