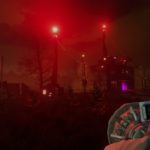 Big Robot ha condiviso il trailer di lancio di The Light Keeps Us Safe, un nuovo titolo horror appena sbarcato in accesso anticipato su piattaforma Pc. Il titolo si configura come un horror post-apocalittico dove sarà necessario unire stealth, capacità di esplorazione e di manipolazione delle fonti di luce contro delle misteriose macchine aliene che danno la caccia al protagonista.
Il gioco è generato proceduralmente, ed ha la distintiva caratteristica di richiedere al giocatore l'utilizzo continuo di fonti di luce nel mondo per tenere a bada le forze oscure che piagano le terre desolate. Bisognerà utilizzare, infatti, letteralmente qualunque cosa – lampioni, fari d'auto o edifici in fiamme – per far luce.
Di sotto, mostriamo il suddetto, breve trailer rilasciato dagli sviluppatori. Buona visione!
L'articolo L'horror The Light Keeps Us Safe sbarca su Pc proviene da IlVideogioco.com.
Continua la lettura di L'horror The Light Keeps Us Safe sbarca su Pc →