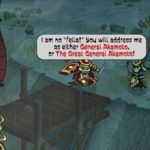 Gli editori 612 Games e Golem Entertainment hanno annunciato che lo strategico a turni di 17-Bit ispirato ai samurai, Skulls of the Shogun: Bone-A-Fide Edition, arriverà su Switch questa primavera.
Dopo l'approdo su Pc (via Steam) PS4, Xbox 360 e Windows Phone, Skulls of the Shogun: Bone-A-Fide Edition si sta facendo strada verso il Nintendo eShop. Il gioco di strategia a turni, estremamente tattico e ad alta velocità, invita gli appassionati ad entrare nell'Aldilà dei Samurai ed unire le forze con i vivaci guerrieri fantasmi Samurai, i monaci-animali magici e i baffuti Samurai generali sulla strada per catturare i Teschi dello Shogun.
Ambientato, come facilmente intuibile, nel Giappone feudale, Skulls of the Shogun: Bone-A-Fide Edition vede i giocatori assumere il ruolo del generale Akamoto, il più potente samurai generale giapponese che viene pugnalato alle spalle da un assalitore sconosciuto alla vigilia della sua più grande battaglia. I giocatori devono combattere i generali dello Shogun attraverso le quattro regioni dell'Aldilà, così come incontrare gli dei di ciascuna regione.
Spetta ai giocatori controllare il generale Akamoto e il suo esercito di soldati. Ad ogni turno possono essere eseguiti cinque ordini. Il gioco offre agli appassionati un sacco di approcci tattici tra cui scegliere, come uccidere unità, potenziare i minion mangiando teschi e inquinando campi di riso ed edifici. Per non dimenticare l'importante considerazione su come utilizzare e distribuire al meglio il loro generale, che deve essere protetto a tutti i costi.
CARATTERISTICHE
Una frenetica miscela arcade d'azione e strategia a turni.
Sposatevi con i coloriti abitanti dell'Aldilà e potenziate il vostro esercito verso demoni mortali.
Rampage attraverso 24 livelli in un'epica campagna per giocatore singolo.
Confondete gli avversari con la nuova unità Tanuki Monk.
Ottenete esperienza e fondi emblemi con un nuovissimo sistema di progressione dei giocatori.
Affrontate fino a 4 giocatori contemporaneamente su mappe multiplayer, sia a livello locale che online.
Fatevi strada attraverso un episodio completamente nuovo, che include truppe persistenti e il nuovo monaco Tanuki dispettoso.
Presenti nuovi commenti degli sviluppatori.
L'articolo Skulls of the Shogun: Bone-A-Fide Edition si dirige su Switch proviene da IlVideogioco.com.
Continua la lettura di Skulls of the Shogun: Bone-A-Fide Edition si dirige su Switch →