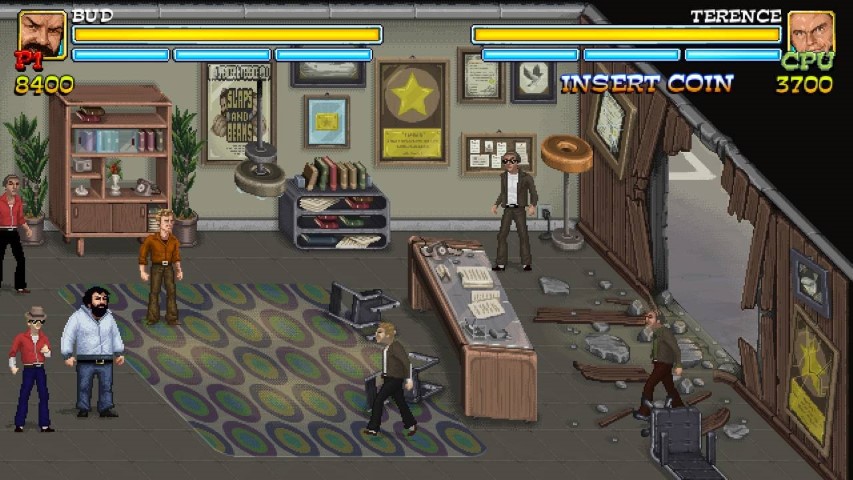 Schiaffi, fagioli, musiche memorabili, scazzottate impossibili e le atmosfere "calde e rassicuranti" dei film con Bud Spencer e Terence Hill. Chi da bambino non si è divertito guardandoli e chi non ha legato qualche ricordo spensierato? Slaps and Beans ci fa rivivere il mito di questa "strana coppia ben assortita" grazie ad un videogioco tutto italiano.
Il titolo è arrivato, ufficialmente, il 20 aprile scorso su Steam ed ha raggiunto Nintendo Switch (e le altre console quali PS4 ed Xbox One) lo scorso 24 luglio andando a rimpinguare il novero degli "spaghetti-beat'em up" portato avanti da Gekido: Kintaro's Revenge di Naps Team.
Lungi da noi andare a ricalcare quanto espresso egregiamente in sede di recensione della versione Pc, qui ci limitiamo ad una disanima della versione Nintendo Switch del gioco di Trinity Team e Bud Productions.
LO CHIAMAVANO TRINITA'
Slaps and Beans è un omaggio al dinamico duo formato da Bud Spencer e Terence Hill, che per trent'anni ha intrattenuto il pubblico con produzioni a basso budget ma dall'alto tasso di divertimento, battute, ironia e denuncia sociale. Tra una scazzottata e una gag, infatti, i nostri eroi difendevano i più deboli da angherie, spacconerie, malavitosi e schiavisti.
Slaps and Beans non fa altro che porre il giocatore (o i giocatori, visto che uno può impersonare Bud Spencer e l'altro Terence Hill) nei panni di questi anti-eroi tutti italiani alla (ri)scoperta delle pellicole che li hanno resi famosi in tutto il mondo. Dall'ambientazione western di Lo Chiamavano Trinità a quella più recente, come Altrimenti ci arrabbiamo, l'attività prevalente sarà quella di andare avanti a prendere schiaffoni, pugni, padellate i cattivi che ci sbarrano la strada.
Non manca lo spazio per dei mini-giochi di guida o di tempismo, come il gioco di birra e salsiccia, che risultano gradevoli per abbassare il ritmo, di tanto in tanto e far tirare il fiato su un gioco che risulterebbe, alla lunga, troppo monotono e ridondante.
NATI CON LA CAMICIA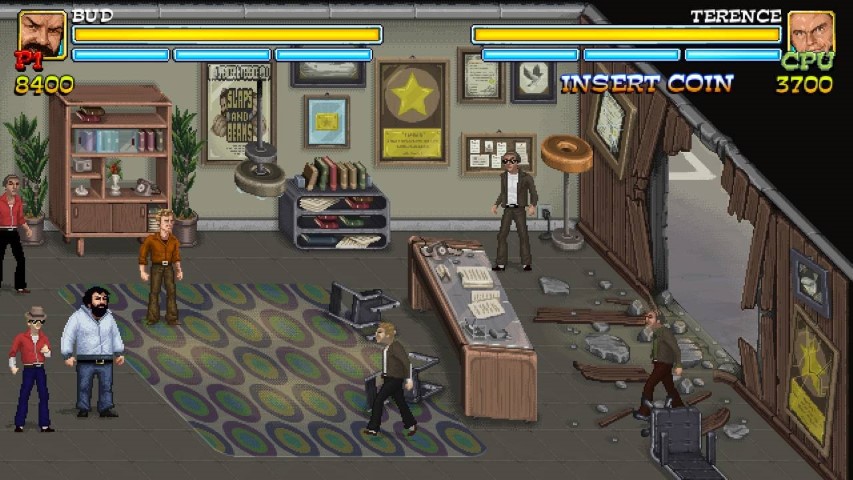 Slaps and Beans si presenta in piena Pixel Art, realizzata a regola d'arte e che offre ben pochi difetti per essere bocciata. Anche le animazioni sono state realizzate molto bene e l'accompagnamento musicale, preso di peso da quello delle pellicole più famose che vedono protagonisti i due attori è di sicuro impatto emotivo.
Ci sono ben poche da rimarcare e criticare, in Slaps and Beans e una di queste è certamente la durata, decisamente breve, del tutto. Una questione spinosa, perché il rischio di risultare troppo lungo e ridondante è sempre dietro l'angolo e i mini-giochi non possono certo fare miracoli in tal senso. A nostro modo di vedere, il gioco è semplicemente ben orchestrato e tarato, dura il giusto ma al confronto con altre produzioni, inevitabilmente, bisogna ammettere che la sua durata, unita ad una rigiocabilità che risiede tutta nel tornare ad emulare le gesta degli attori, è estremamente soggettiva.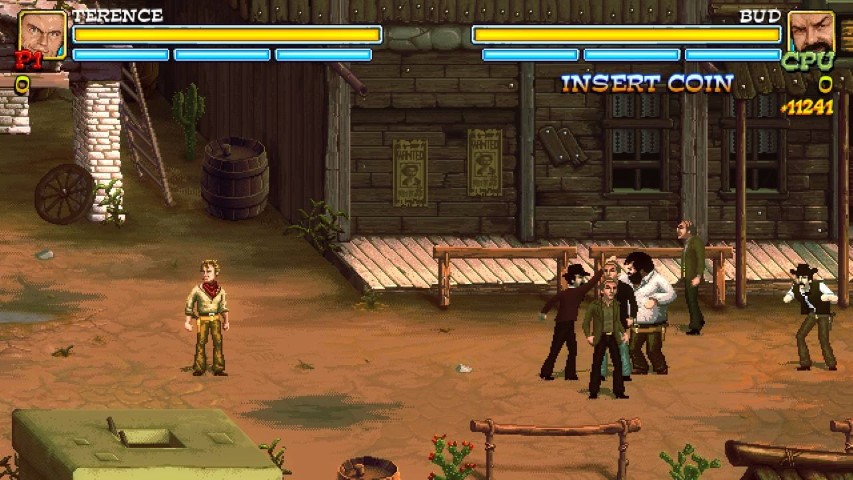 La versione Nintendo Switch è, né più né meno, identica alle controparti Pc e console, con il solito valore aggiunto della portabilità che permette di godere del gioco anche lontano dallo schermo del salotto o della zona di gioco.
Dato lo stile grafico, non si segnalano peggioramenti di risoluzione o di fluidità dell'azione. L'unica cosa da menzionare è la curiosa corrispondenza di posizione dei comandi, che va in controtendenza con l'usanza di affidare al tasto A del pad della console Nintendo il comando per proseguire e al tasto B il comando per tornare indietro sulle proprie decisioni.
Qui, in sostanza, funziona tutto al contrario e non è cosa da poco per chi è abituato alla normalità.
COMMENTO FINALE
Bud Spencer and Terence Hill Slaps and Beans è un videogioco picchiaduro di scorrimento che si rifà alle pietre miliari del genere, molto in voga negli anni '90. Ispirandosi a titoli quali Double Dragon, Metal Slug, Batman The Movie e tanti altri, offre al giocatore una breve ma intensa carrellata di omaggi alle pellicole di Bud Spencer e Terence Hill, accompagnati dalle più iconiche colonne sonore che hanno segnato almeno quattro generazioni di spettatori.

Visivamente stiamo parlando di una gestione della pixel art ai limiti della perfezione e sono molto buone anche le animazioni di protagonisti e comparse. Nemmeno i fondali sembrano essere realizzati con poca cura e questo alza l'asticella della qualità a livelli di eccellenza.

Joypad alla mano si parla di controlli semplicissimi e di facile utilizzo. Giocando in due giocatori sullo stesso schermo, tutta la magia degli anni '90 di scazzottare in compagnia riprende vita e si può far meglio in quanto a mosse speciali e situazioni degne dei film dei due famosi attori omaggiati in questa produzione.

La versione Switch, come sempre, si distingue dalle altre per l'eccellente gestione del gioco in portabilità, sul piccolo schermo, sia che si giochi da soli oppure in compagnia. Merito anche della pixel art, il passaggio da grande a piccola schermata non è deludente ma sempre all'altezza. L'unica piccolezza che ci ha messo un po' in crisi è stata quella di constatare che, su piattaforma Nintendo, contrariamente alla norma di tutti i giochi, si conferma con il tasto B e si ritorna indietro con quello A: segno che i comandi sono stati importati di peso dalle versioni Pc e console da salotto, senza badare al nome del pulsante.
L'articolo Slaps and Beans, Recensione Switch proviene da IlVideogioco.com.
Continua la lettura di Slaps and Beans, Recensione Switch →