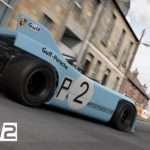 Slightly Mad Studios e Bandai Namco Entertainment Europe hanno annunciato il lancio odierno del Porsche Legends Pack, il secondo dlc per Project Cars 2, che è ora disponibile sia in formato indipendente che come parte integrante del Season Pass.
L'espansione celebra il 70° anniversario della Porsche che immergerà in una coinvolgente esperienza di emozioni, suoni e pura storia delle corse.
Allacciate le cinture e preparatevi per un viaggio alla guida di nove vetture Porsche nel circuito proprietario della casa tedesca, il Porsche On-road Circuit Leipzig, certificato dalla FIA, un'anteprima assoluta per ogni gioco di corse.
Le nove Porsche rappresentano 70 anni di vetture sportive della casa tedesca. Dalla 917K "Le Mans" alla Porsche 917/10 "Turbo Panzer", la "Moby Dick" 935/78 coda di balena e la 911 Carrera RSR 2.8, la cui bellezza è stata eguagliata solo dalle sue impareggiabili prestazioni nelle gare GT europee, passando alla meravigliosa Porsche 959 S a trazione integrale e doppio turbo e la 2004 Carrera GT alimentata con un motore V10 derivante dalla Formula 1, che ha stupito un'intera generazione di appassionati, fino alla guerriera Porsche nella categoria GT, la 2017 Porsche 911 RSR.
Oltre alle nove auto e al circuito della casa di Stoccarda, il pacchetto includerà anche 11 livree eSports su misura e alcuni eventi della carriera a tema Porsche, progettati per portare tutto lo spirito di queste auto straordinarie in alcuni scenari dove sono state leggende.
Questo secondo pacchetto di espansione per Project Cars 2 offrirà ai possessori del Season Pass anche un'anteprima sui prossimi pacchetti, tra cui l'atteso Spirit of Le Mans e il Ferrari-themed Expansion Pack 4, entrambi previsti per il 2018.
TRAILER DI LANCIO
CONTENUTI DLC "PORSCHE LEGENDS PACK":
AUTO (9)
TRACCIATI (1)
(11) LIVREE ESPORTS DI:
EVENTI CARRIERA (5)
Porsche 908/03 Spyder del 1971
Porsche 917K del 1971
Porsche 917/10 del 1972
Porsche 911 Carrera RSR 2.8 del 1973
Porsche 935/78 del 1978
Porsche 935/78-81 del 1981
Porsche 959 S del 1987
Porsche Carrera GT del 2004
Porsche 911 RSR del 2017.
Porsche On-road Circuit Leipzig
VP-Gaming.de
ESPORTS+CARS
Oscaro esports by SDL
Euronics Gaming
Carrera Showdown
California Dream Event
2.4 Hours of Nurburg
Vintage Forest Run
Icons On Show
L'articolo Project Cars 2, disponibile il Porsche Legends Pack sembra essere il primo su IlVideogioco.com.
Continua la lettura di Project Cars 2, disponibile il Porsche Legends Pack →