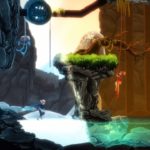 Modus Games e Moondrop hanno annunciato oggi il titolo di piattaforme cooperativo 2D Degrees of Separation, la cui uscita è prevista per il 14 febbraio 2019 su Nintendo Switch, PlayStation 4 e Xbox One. Nello specifico, i giocatori potranno controllare due personaggi ugualmente potenti mentre manipolano il freddo e il caldo in tandem, attraverso un ambiente rigoglioso, pieno di enigmi e temi ispirati alla vicinanza e alla separazione.
Caratterizzato infatti da una narrazione curata dal veterano dell'industria videoludica Chris Avellone, Degrees of Separation fonde insieme un messaggio gentile e potente sul potenziale magnetico delle forze opposte che si attraggono, e la possibilità di risolvere enigmi in un mondo fiabesco e atmosferico. Di seguito, oltre al primo trailer di presentazione, trovate il sommario delle caratteristiche.
Gioco d'avventura a piattaforme 2D. Un'esperienza ricamata in un fantastico mondo in 2D, con uno stile immersivo basato sugli aspetti delle contrastanti temperature.
Narrazione innovativa. Il giocatore scoprirà il potenziale dei due protagonisti Ember e Rime, seguendo la complessa trama dell'acclamato sceneggiatore di videogiochi Chris Avellone.
Rompicapo ambientali. Il giocatore navigherà tra diversi mondi e risolverà enigmi complessi per alterare l'ambiente secondo necessità.
Gameplay in co-op. Il giocatore potrà sfruttare la potenza di Ember e Rime in single-player e in multiplayer co-op per interagire con l'ambiente in molti modi, sia in maniera individuale che in squadra.
Livelli non lineari. Il giocatore potrà attraversare paesaggi diversi che introducono meccaniche di gioco nuove, mischiando a dovere gameplay, narrative ed evoluzione dei personaggi.
L'articolo Annunciato il platformer co-op Degrees of Separation proviene da IlVideogioco.com.
Continua la lettura di Annunciato il platformer co-op Degrees of Separation →