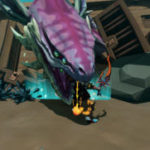 Disponibile da oggi The Shadow Reef, terzo e conclusivo capitolo della trama degli Elite Dungeons di Runescape, titolo sviluppato da Jagex.
RuneScape invita tutti i giocatori a immergersi nelle profondità sottomarine, all'interno dell'antico tempio sommerso di Ulthven Kreath, dove devono affrontano un ambiente ostile pieno di nemici aggressivi prima dell'incontro con The Ambassador, il boss nascosto nelle profondità
Come per i due Elite Dungeons Dungeon precedenti, The Shadow Reef include un'opzione di modalità storia, che consente ai giocatori di concentrarsi sulla narrazione, con i nemici caratterizzati da salute e forza ridotta, ma si possono ottenere ricompense solo dagli incontri con i boss.
Dave Osborne, lead designer di RuneScape, ha dichiarato:
The Shadow Reef porta la questline ad una conclusione epica, mentre i giocatori scoprono i segreti sotto le acque di Gielinor e sperimentano un incontro indimenticabile con The Ambassador, che spingerà i giocatori al limite, sia in multi-player che in single-player.
Le prime parti della trilogia, The Temple of Aminishi e Dragonkin Laboratory, furono entrambe rilasciate durante l'estate 2018 e dovevano essere completate cronologicamente dai giocatori. Tuttavia, con il lancio di The Shadow Reef, i tre Dungeon Elite possono essere completati in qualsiasi ordine.
L'articolo RuneScape, disponibile oggi in nuovo capitolo proviene da IlVideogioco.com.
Continua la lettura di RuneScape, disponibile oggi in nuovo capitolo →