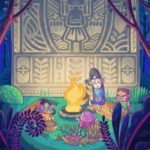 She and the light bearer, avventura punta e clicca sviluppata da Mojiken Studio ed edito da Toge Productions, è disponibile su Steam per Pc e Mac.
Il giocatore segue il viaggio della Piccola Lucciola che vaga in una foresta sconosciuta, portando con sé un grande compito. Poiché il mondo ha perso il suo equilibrio da quando la madre è caduta in un sonno profondo, la nostra piccola Lucciola è incaricata di trovare la Madre per riportare l'armonia sulla terra. Nella foresta sconosciuta, dovrà risolvere vari enigmi e affrontare sfide per dimostrare il proprio valore e guadagnare la fiducia della foresta.
"Ho sempre amato la poesia, il mito e la favola. Durante la realizzazione del gioco, sono stato fortemente ispirato dalla storia di madre terra. Voglio mostrare la bellezza della natura attraverso questo gioco".
Ha dichiarato il game director e artist, Brigitta Rena.
Nello specifico, ecco alcune caratteristiche:
fiaba con personaggi interessanti con cui interagire
grafica completamente disegnata a mano e animata
soundtrack acustica in grado di portare il giocatore nel cuore della foresta.
Ecco il trailer sulla storia e molte immagini. Buona visione.
L'articolo She and the light bearer, disponibile da oggi su Steam per pc e mac proviene da IlVideogioco.com.
Continua la lettura di She and the light bearer, disponibile da oggi su Steam per pc e mac →