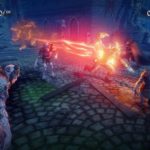 Hand of Fate 2, l'eccellente gioco di ruolo di Defiant Development si arricchisce con il nuovo aggiornamento Combat Reforged e con il dlc The Servant and the Beast.
Entrambi i contenuti disponibili già da ora su Pc, PS4 e Xbox One, arriveranno presto anche su Switch.
Con Servant and the Beast, ritorneremo al tavolo del Dealer ancora una volta. Saremo affiancati da un nuovo personaggio Veles the Shadow Beast. Quest'ultimo, con i suoi poteri oscuri e terribili, ci aiuterà ad abbattere i nemici in combattimento. Ovviamente affronteremo nuove quest vendicative caratterizzate da nuovi incontri e da attrezzature da sbloccare.
Ecco il trailer. Buona visione.
Morgan Jaffit, director di Defiant Development, ha detto:
The Servant and the Beast è un nuovo capitolo della storia di Hand of Fate 2. Quando i giocatori torneranno per incontrare Veles e per intraprendere un'avventura completamente nuova, troveranno il nostro più ambizioso ed espansivo dlc fino ad oggi.
Arriva insieme il nuovo aggiornamento gratuito Combat Reforged che rivoluziona lo svolgimento delle battaglie in Hand of Fate 2 grazie a diverse meccaniche di combattimento avanzate. Riequilibrati anche i nemici e le attrezzature. Il Combat Reforged contiene altri miglioramenti che rendono questo il momento migliore per giocarlo sia per chi lo gioca per la prima volta sia per chi lo ha già giocato.
Il precedente dlc, Outlands and Outsiders, pubblicato ad inizio anno su Pc, è ora disponibile anche su PlayStation 4 e Xbox One. Questo presenta una nuova storia su come alterare il passato, un nuovo compagno folletto con una serie di quest uniche e altre carte da acquisire.
The Servant and the Beast ed Outlands and Outsiders sono in vendita 5,99 euro ciascuno su PlayStation Store, Microsoft Store, Steam e GOG.com. Il primo attualmente è disponibile anche con uno sconto introduttivo del 10% su Steam. Sempre sulla piattaforma di Valve, il gioco base è anche momentaneamente, offerto con il 25% di sconto sul prezzo base durante lo stesso periodo.
Giuseppe Stecchi
L'articolo Hand of Fate 2 si arricchisce di nuovi contenuti proviene da IlVideogioco.com.
Continua la lettura di Hand of Fate 2 si arricchisce di nuovi contenuti →