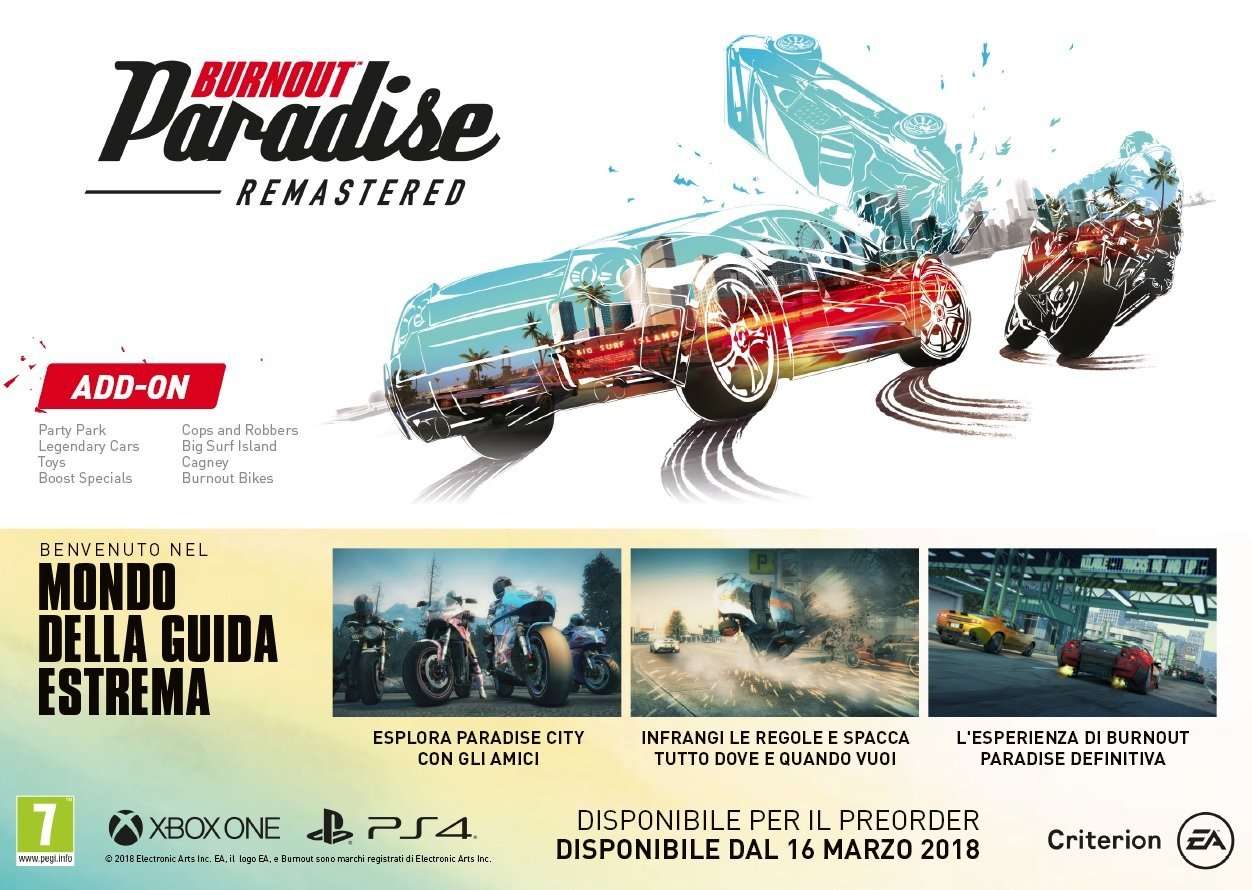 Era fine gennaio del 2008 quando Burnout Paradise fece il suo debutto su PS3 ed Xbox One portando una nuova ventata alla particolare serie arcade che si basa soprattutto sull'abilità di fare incidenti.
Le novità all'epoca furono importanti perché rivoluzionarono la saga facendola diventare un vero e proprio racing ambientato in un vasto mondo open world chiamato, Paradise City (da qui la presenza del celebre brano dei Guns N' Roses del 1987 che riecheggia come brano principale di una ampia colonna sonora).
L'anno successivo, il titolo realizzato da Criterion Games che fece effettivamente fare il salto di qualità a Burnout, arrivò su Pc. La saga, nata nel 2001, non ebbe poi grandissimi sviluppi se si eccettua Burnout Crash del 2011 che però ebbe tante critiche e non era minimamente paragonabile a Paradise.
Da allora la serie è in standby. Tuttavia, qualche mese fa, Electronic Arts, publisher della saga, ha annuncio la Remastered per PS4 ed Xbox One in grado, ovviamente, di sfruttare i benefici tecnici (4K, 60 fps ed altro) di PS4 Pro ed Xbox One X.
Ecco quindi Burnout Paradise Remastered che da ieri (16 marzo 2018) sfreccia sulla console attuali e che arriverà tra qualche tempo anche su Pc e torna dopo 10 anni dalla sua prima "edizione".
Noi vi parleremo della versione PS4 di questa riproposizione di quello che all'epoca fu un vero e proprio capolavoro. Avrà superato indenne il passare del tempo? Rimarrà sempre divertente? Ecco il nostro racconto.
PARADISE CITY, 10 ANNI DOPO… CON TANTI CONTENUTI
Burnout Paradise si ripresenta in una nuova veste per sfruttare le caratteristiche e le potenzialità delle console odierne. Ci rituffiamo nella stesse strade che dieci anni fa ci regalarono tantissimo divertimento a suon di corse mozzafiato del tutto fuori controllo, andando a distruggere le auto a destra ed a manca in ogni dove lungo una mappa aperta di svariati km quadrati, suddivisa in otto punti di interesse estremamente diversi tra loro.
Non manca Rock F. M. che ci presenta nuovamente il gioco proponendoci i suoi brani. Tra questi, come detto, Paradise City dei Guns N' Roses, tantissime altre canzoni rock che però vengono alternati quando siamo fermi ed il gioco va in pausa da brani di musica classica. Un interessantissimo contrasto sonoro che ci piace. Una sorta di Dr. Jeckyll e Mr. Hyde, tra calma olimpica quando si sta fermi e follia pura quando si è al volante.
E poi la voce del tutorial che ci spiega le cose fondamentali del gameplay come ad esempio i vari tipi di gara e come partecipare, ci segnala i punti di interesse ma anche la presenza degli sfasciacarrozze (luogo in cui potremo ritirare le nostre auto o moto come ricompensa delle nostre gesta e vittorie), dei meccanici che – chiaramente – riparano (al volo) i danni accumulati dalla nostra vettura, i verniciatori ma anche i benzinai che aggiungono carburante per il nostro turbo (la nitroglicerina), e così via.
All'inizio è possibile anche, tramite camera usb, scattare una foto ed applicarla alla patente di gioco, in alternativa il nostro Avatar PSN va benissimo.
In sostanza, le prime sensazioni, sono familiari perché non sembra essere cambiato troppo. Questo è un bene ed al tempo stesso una costa non troppo positiva che però spiegheremo dopo.
I nostri primi km sono un continuo gironzolare per la mappa della città che include anche tanti luoghi nascosti accessibili attraverso cancelli che possono essere utilizzati anche come scorciatoie nelle gare contro gli altri.
Dovremo anche essere pronti ad affrontare le sfide di vario genere: resistenza, o le classiche gare per arrivare primi da un punto all'altro (e qui le scorciatoie possono essere utili o addirittura deleterie perché se imboccata la strada sbagliata possiamo anche allungare la distanza che ci separa dal traguardo), oppure la furia stradale da vincere a suon di takedown. Esiste anche la possibilità di creare incidenti catastrofici (come nei precedenti Burnout, ndr).
Tutto come ce lo ricordiamo con un gameplay sempre divertente avvalorato dal fatto che questa edizione includa tutti i contenuti come i veicoli extra, nuove sfide ed ulteriori porzioni di mappa.
GLI OTTO DLC OLTRE AL GIOCO "LISCIO"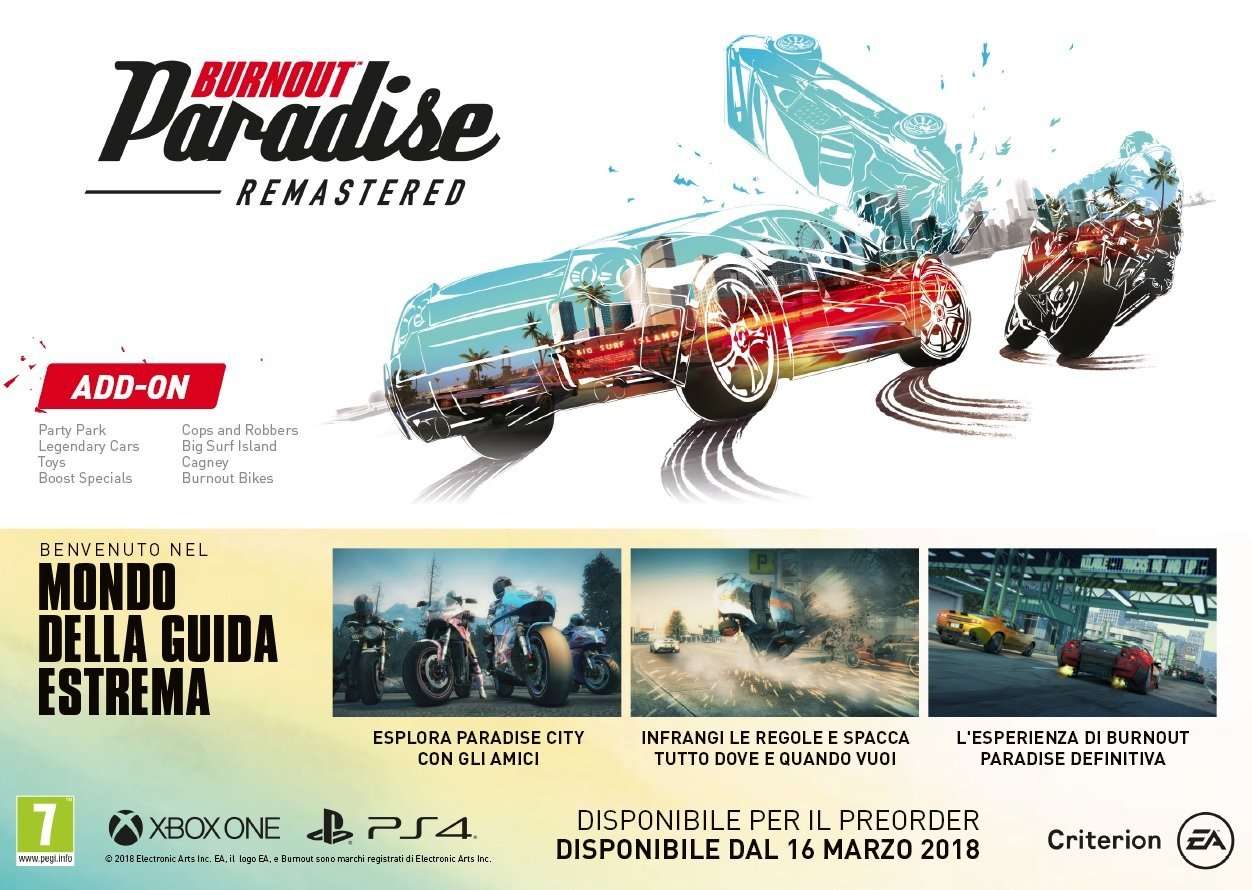 I contenuti sono quindi al top: complessivamente troviamo circa 140 tra vetture e moto (alcune auto davvero iconiche), tutti gli otto dlc presenti che fanno aumentare enormemente i numeri. Troviamo, ad esempio 475 cancelli da sfondare (400 da Paradise City ed i restanti in Big Surf Island), nuovi salti per effettuare acrobazie, e tanto, tanto altro.
Eccoli la lista:
Big Surf Island
Nuove sfide, oggetti da scoprire, eventi e nove nuovi veicoli accompagneranno alla scoperta dell'enorme quartiere di Big Surf Island per tante gare e un po' di relax "innocuo".
Cops and Robbers
Date gas nel nome della legge e interpretate buoni e cattivi nel pacchetto Cops and Robbers. Aggiunge una nuova modalità online e le versioni della polizia di 33 dei veicoli originali di Paradise.
Legendary Cars
Quattro vetture inedite arrivano sulle strade di Paradise City grazie al pacchetto Legendary Cars. Include Carson GT Nighthawk, Hunter Cavalry Bootlegger, Hunter Manhattan Spirit e Jansen 88 Special.
Burnout Bikes
Questo è dedicato alle due ruote con Burnout Bikes. Offre quattro moto: FV1100, FV1100-T1, Firehawk V4 e Firehawk GP Competition.
Burnout Paradise Toys
Afferrate il telecomando e sfrecciate con le velocissime auto giocattolo del pacchetto Toys. Include versioni giocattolo delle seguenti auto: Hunter Cavalry, Hunter Manhattan, Krieger WTR, Jansen P12, Hunter Takedown 4×4, Carson GT Concept, Hunter Citizen, Carson Inferno Van e la moto Nakamura Firehawk GP Competition.
Burnout Paradise Party
Il pacchetto Party permette di completare sfide di squadra con gli amici.
Boost Specials
Guidate la Carson Extreme Hot Rod o la Montgomery Hawker Mech.
Cagney
Tante nuove sfide e modalità attendono nell'aggiornamento Cagney, oltre alla Carson Hippy Van. Include due nuovi veicoli e decorazioni aggiuntive della community.
ARCADE ALLO STATO PURO
Il gameplay originale è rimasto intatto, così come la sensazione di confusionario divertimento. Rimanere fedeli al proprio spirito è, lo diciamo fin da ora, un grande pregio. Sfrecciare per le strade, viottoli, cantieri abbandonati, piazze, stadi, fino ad arrivare a spiagge, quartieri in o zone di montagna e così via, non è stato così divertente.
Il motivo è semplice: le regole non esistono ed uno può girare liberamente facendo cosa gli pare e piace a bordo di vetture e moto. Fermandoci agli incroci potremo scegliere il tipo di gara alla quale partecipare, a patto di avere il mezzo adatto.
Se saremo a corto di nitroglicerina per aumentare il turbo a nostra disposizione potremo compiere evoluzioni o andare contromano per qualche centinaia di metri in modo da recuperare il prezioso combustibile.
Le diverse tipologie di competizioni permettono sempre varietà. Esiste anche una modalità "carriera" basata sulle patenti. Ogni vittoria (e ribadiamo che solo il primo posto nelle gare o il raggiungimento di determinati risultati imposti dal gioco) sarà utile per la nostra scalata alla patente più prestigiosa. Si parte da quella provvisoria: due vittorie e si ha la patente D, altre otto per quella C e così via.
L'obiettivo rimane sempre e comunque mettere tutti indietro con le maniere forti. A suon di takedown (mandandoli a sbattere contro ostacoli o comunque buttandoli letteralmente fuori strada) e colpi di turbo tentando ovviamente di non essere vittima a nostra volta di incidenti che ci rallentano e che comunque danneggiano l'auto o la moto al punto poi di essere fuorigioco per quella corsa. A quel punto bisogna tornare dal meccanico per una riparazione.
Abbiamo detto che si tratta di divertimento confusionario. In effetti lo è perché non ci sono regole né tanto meno indicazioni precise. Si, in determinate gare (da punto A a punto B) bisogna seguire indicazioni generali ma a quella velocità è impossibile guardare la segnaletica. Inoltre è possibile, come dicevamo, prendere alcune scorciatoie in stile Wacky Races (il buon Dick Dastardly ne sa qualche cosa), permettono di avere vantaggi ma queste non sono infallibili ed alcune volte si allunga strada inutilmente perdendo il vantaggio. Ma capita spesso di sbagliare via.
Questo toglie poco al divertimento anche quando si va a sbattere rovinosamente vedendo il nostro mezzo accartocciato in modo catastrofico. Burnout non è mai stato un simulatore, né mai lo sarà, ma anche se la fisica è esasperata rimane comunque tutto sommato "credibile" o quanto meno verosimile nell'impatto tra le varie vetture.
Andare a Paradise City o a Big Surf Island è uno spasso sempre e comunque. Peccato che alcune volte diventi fine a sé stesso soprattutto quando ad esempio vogliamo andare in una determinata zona della città. In questa remaster probabilmente avrebbero fatto meglio ad aggiungere i viaggi veloci (i fast travel) che sono una manna dal cielo quando si vuole fare una determinata gara e che sono peculiarità degli open world da diverso tempo.
COMPITO DI REMASTER SVOLTO BENE MA FORSE SI POTEVA FARE DI PIU'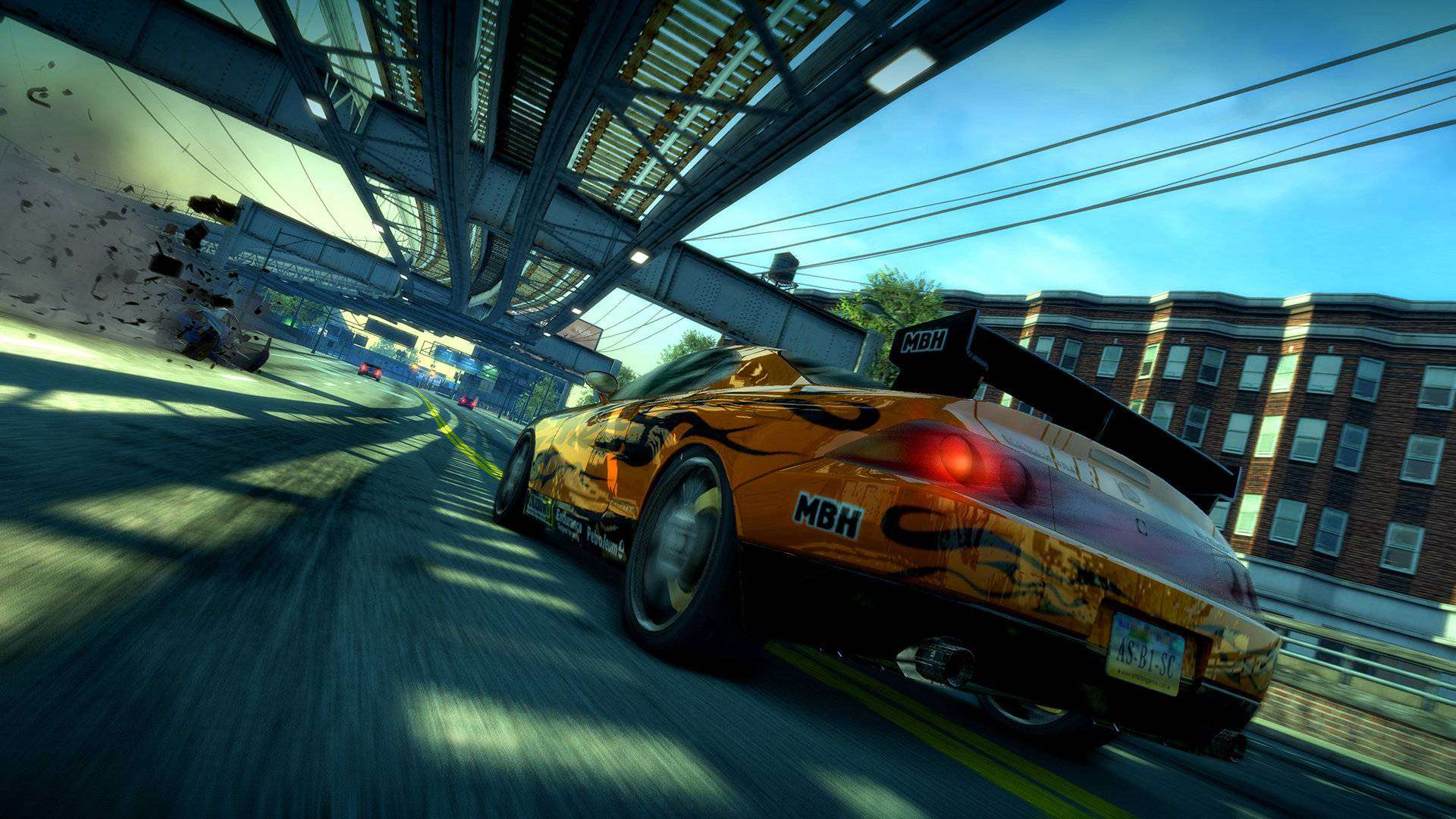 Dal punto di vista tecnico, Burnout Paradise Remastered appare molto pulito. Abbiamo provato la versione PS4 ed abbiamo notatouna certa pulizia e velocità. Non ci sono titubanze ed è tutto al suo posto. Forse, però, gli sviluppatori avrebbero potuto lavorare più in profondità sulle texture. Alcune sono così così, altre vanno meglio. Ad ogni modo il gioco è stato tirato a lucido ma rimane la percezione di una concezione "vecchia". Poco male: pensiamo sia normale in queste occasioni.
Ciclo giorno-notte, effetti particellari (le scintille o la velocità smodata quando si utilizza il turbo, ad esempio) ben riprodotti, fisica degli incidenti tutto sommato credibile (ma ricordiamo che non si tratta di una simulazione e quindi va bene così) e nessuna incertezza. Bene anche sulla varietà delle location. I tanti chilometri quadrati della mondo di gioco offrono tanti scorci urbani e naturalistici gradevolissimi.
Su PS4 Pro ed Xbox One X le cose vanno meglio in virtù della maestosa potenza del 4K… a patto di avere televisori adatti…
Il comparto sonoro è rimasto tale e quale con tanti brani tra rock e musica classica di cui abbiamo parlato prima evidenziando un contrasto di note sublime, un buon doppiaggio in italiano ed ottimi effetti sonori.
Sostanzialmente non c'è stato apparentemente un grandissimo sforzo. Ghost Games ha fatto il suo compito senza particolari problemi consegnando ai nostalgici ed a chi attendeva un gioco della serie Burnout un prodotto pulito e ricco di contenuti capace ancora di divertire, a patto di essere amanti del genere.
Su PS4 possiamo definirlo uno dei racing arcade open world di rilievo.
COMMENTO FINALE
Cosa aggiungere di Burnout Paradise Remastered? Che finalmente EA e Criterion Games portano un Burnout su PS4 e che la speranza adesso si concentra su possibili sviluppi di capitoli inediti per la saga anche per le console attuali. I fan del resto chiedevano da tempo ed a gran voce l'arrivo della serie. Forte di una realizzazione tecnica pulita e di tutti i contenuti supplementari che il gioco originale propose nel corso degli anni, questa edizione offre svariate ore di divertimento ed è adatto soprattutto ai neofiti che saranno liberi di divertirsi in ogni modo.

Forse si sarebbe potuta ampliare la modalità carriera o altro ma trattandosi comunque di una Remastered non possiamo obiettare oltre. Del resto non manca apparentemente nulla a questa versione che include anche la modalità online.

Se siete amanti della serie e volete giocarla o rigiocarla su PS4 e PS4 Pro o su Xbox One ed Xbox One X, questo è il gioco che fa per voi a patto che non lo paragoniate a Gran Turismo Sport, o a Project Cars (1 e 2) o a Forza Motorsport. Sarebbe un grosso errore. Burnout Paradise Remastered ha invece il grande merito di rimanere fedele a se stesso, soprattutto al suo (divertente e scanzonato) spirito "selvaggio" offrendo tanto divertimento e perché no, anche uno svago utile. Ai giorni d'oggi non è una cosa così scontata.
L'articolo Burnout Paradise Remastered, Recensione PS4 sembra essere il primo su IlVideogioco.com.
Continua la lettura di Burnout Paradise Remastered, Recensione PS4 →