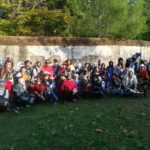 Un incontro festoso e colorato a Lucca. Orchi ed elfi neri, necromanti e crociati, guerrieri fantasy ma anche Tracer, Reaper e McCree. Erano davvero a centinaia i cosplayer che oggi nell'ambito del Lucca Comics & Games 2018 hanno sfilato nella parata Welcome to Blizzard World, ispirata ai personaggi di alcuni dei videogiochi più popolari e amati di sempre, come World of Warcraft, Diablo ed Overwatch.
Si sono dati appuntamento al baluardo San Donato, per poi sfilare lungo le mura della città fino ad arrivare a casa Blizzard, ovvero la Locanda ispirata a Hearthstone e al mondo di World of Warcraft presso la Casermetta di San Regolo. A testimoniare il tutto anche diverse foto che alleghiamo all'articolo.
In una Lucca gremita di cosplayer, la sfilata di Blizzard ha riscosso successo tra i visitatori, che hanno ovviamente trasformato l'evento live in un evento social, postando centinaia e centinaia di foto su Facebook e Instagram.
Realizzata in collaborazione con l'organizzazione di Lucca Comics & Games, alla parata hanno parteciperanno il gruppo Blizzard Cosplayers Italy, Overwatch Cosplay Italia ma anche tantissimi appassionati venuti nella cittadina per interpretare i tanti e popolarissimi eroi degli universi Blizzard.
Dopo l'incredibile successo dello scorso anno, Blizzard ha voluto riproporre anche in questa edizione quello che probabilmente diventerà un evento fisso, per celebrare la passione dei fan che, nel corso degli anni, hanno trasformato dei "semplici" videogame in veri e propri capisaldi della cultura pop.
L'articolo Lucca Comics & Games 2018 la sfilata dei cosplayer Blizzard in foto proviene da IlVideogioco.com.
Continua la lettura di Lucca Comics & Games 2018 la sfilata dei cosplayer Blizzard in foto →