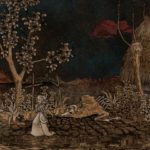 Klabater ha annunciato oggi il rilascio del suo ultimo contenuto aggiuntivo per Apocalipsis: Harry at the End of the World, intitolato One Night in the Woods e disponibile a partire da oggi. Si tratta di un prequel della storia principale, focalizzato sulla coprotagonista Zula e sul suo background narrativo precedente agli eventi del gioco.
Krzysiek Grudziński, game director del titolo, ha affermato che la decisione di dare un ruolo da protagonista a Zula deriva dal particolare interesse dimostrato dai giocatori nei confronti della sua figura: "Siamo dunque arrivati alla conclusione che lei meritasse una storia tutta sua, meglio se narrata dal principe dell'oscurità Nergal", ha affermato lo sviluppatore.
One Night in the Woods offrirà così un nuovo punto di vista sulla vicenda, un'ambientazione inedita, ovvero una terrificante foresta, un nuovo artefatto (una lampada magica) e ulteriori achievement di gioco. Se non conoscete il titolo in questione e desiderate approfondire l'argomento, potete trovare qui il link alla nostra recensione, nella quale abbiamo premiato il lavoro di Klabater con un ottimo voto.
Vediamo le prime immagini del dlc.
L'articolo Disponibile il nuovo dlc di Apocalipsis: Harry at the End of the World proviene da IlVideogioco.com.
Continua la lettura di Disponibile il nuovo dlc di Apocalipsis: Harry at the End of the World →