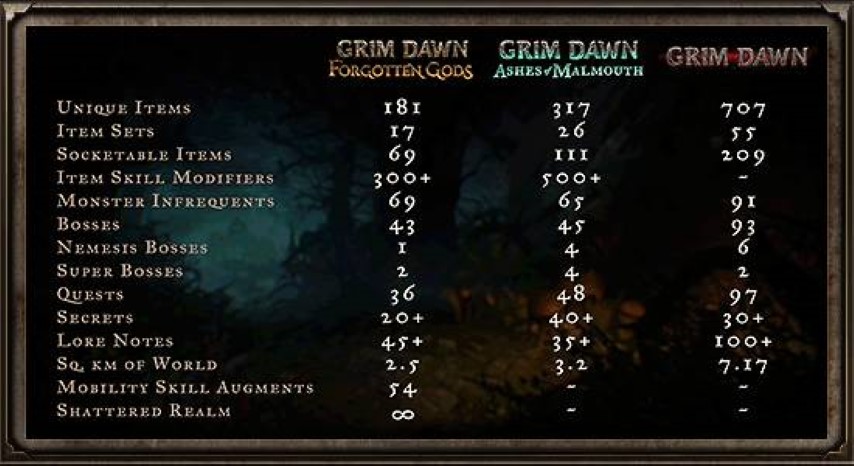 Forgotten Gods, la nuova espansione maggiore di Grim Dawn ha una data di lancio. Uscirà il 27 marzo al prezzo di 15,99 euro. Lo rende noto Crate Entertainment, sviluppatore e publisher dell'eccellente hack and slash che ricorda molto in alcune sue dinamiche Titan Quest.
In Forgotten Gods, i giocatori viaggeranno oltre i confini dell'Impero di Erulan attraversando sabbie infuocate, oasi lussureggianti e deserti vulcanici per raggiungere le rovine battute dal sole di una città che cela tanti segreti che non dovrebbero essere svelati.
Le fiamme di un odio dimenticato sono state riaccese nel reame di Eldritch e seminano il terrore anche tra gli stessi stregoni.
QUALCHE NUMERO COMPARATIVO
Ecco una tabella riepilogativa sui numeri di questa espansione, del gioco liscio e dell'espansione precedente Ashes of Malouth. I dati sono interessanti e riguardano gli oggetti unici, oggetti appartenenti a set, mostri infrequenti, boss, segreti, note del lore, km quadrati  ed altri dati.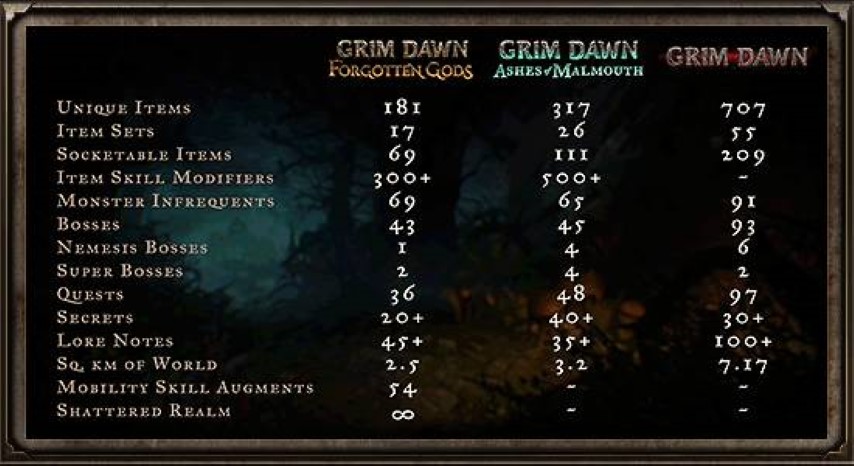 SHATTERED REALM
Si tratta di una inedita modalità di gioco, ricca di loot ad altissimo livello ma anche di sfide altrettanto impegnative, destinata a farsi sempre più difficile (anche grazie ad adeguati mutators) a mano a mano che il giocatore scende sempre più in profondità nel labirinto metafisico del Cairn. A tale dungeon si accederà tramite un nuovo png, Mazaan The Keeper of Portals, responsabile dei portali d'accesso al reame e servo del Dio Stregone Bysmiel.
LA NUOVA CLASSE: L'OATHKEEPER
Si tratta di un guerriero sacro, un guardiano di tombe e un crociato zelante. L'Oathkeeper è una figura capace di servire l'umanità come di combatterla, dato che i loro poteri derivano dai Witch Gods, esseri con agende indefinite e propositi oscuri. Essi schiacciano i loro nemici con arma e scudo, punendo i loro avversari con gli stessi colpi che vengono loro inflitti. Il loro ruolo è quello di combattente in mischia, ma non disprezzano nemmeno il combattimento a distanza; i loro poteri cambieranno a seconda di quale strada più o meno illuminata percorreranno.
Le loro abilità includeranno una carica inarrestabile, la possibilità di diventare un vortice di distruzione, di evocare alleati celesti e di ottenere benedizioni dagli dei stessi.
POTENZIAMENTI DELLE RUNE
Si applica una nuova categoria di incantesimi alle Medaglie, sbloccando potenti abilità di mobilità disponibili per tutte le abilità, tra cui Salto, Teletrasporto e altro.
UN CAPITOLO DI UNA STORIA ENORME
Viaggiate oltre i resti dell'Impero Erulano verso nuove pericolose terre pullulanti di segreti proibiti. Combattete al fianco dei culti di Dio Strega per sconfiggere la crescente minaccia di un dio dimenticato.
NUOVI AMBIENTI
Scoprite i presagi deserti, esplorate le oasi lussureggianti, sopravvivete al calore di una terra devastata dalla rabbia del dio, testimoniate le meraviglie del Regno di Eldritch stesso.
DIFFICOLTÀ MERITI
Abbracciate nuove sfide iniziando il gioco in difficoltà élite o ultimate fin dall'inizio acquistando difficoltà meriti per i vostri nuovi personaggi.
TRASMUTAZIONE
Visitate l'Inventore per ritirare i vostri Set duplicati per creare nuovi Set dallo stesso equipaggiamento o set completamente diversi.
QUATTRO FAZIONI
Allineatevi con una dei tre fazioni Witch God e affrontate gli Eldritch Horrors al servizio di un potere dimenticato.
NOVE COSTELLAZIONI
Scatenate i poteri degli dei dimenticati con 9 nuove Costellazioni di Devozione che offrono ancora più modi per attraversare il gigantesco arazzo celeste di Grim Dawn.
COLLEZIONATE CENTINAIA DI NUOVI OGGETTI
Decine di nuovi mostri infrequenti e centinaia di oggetti epici e leggendari sono in attesa di essere aggiunti alla vostra collezione, inclusi set esclusivi per il dungeon di Roguelike e il regno distrutto.
Nuove Nemesi e nuovi Super Boss: The Eldritch Realm ospita terrori oltre l'immaginazione. Affrontate la sua nemesi per un bottino unico. Scoprite i segreti del bacino di Korvan e scatenate un nemico estremamente potente.
L'articolo Grim Dawn, l'espansione Forgotten Gods arriva il 27 marzo proviene da IlVideogioco.com.
Continua la lettura di Grim Dawn, l'espansione Forgotten Gods arriva il 27 marzo →