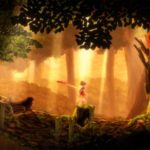 Degrees of Separation, titolo sviluppato Moondrop, si mostra in un nuovo trailer che consente di analizzare la narrativa e il gameplay più nel dettaglio.
Il gioco realizzato con la collaborazione con l'autore fantasy Chris Avellone, racconta la storia di un ragazzo e di una ragazza provenienti da due diversi mondi, le cui vite si intrecciano. Ember e Rime, legati rispettivamente alle forze del caldo e del freddo, cominciano un viaggio in cui non appena si incontrano vengono divisi dalla differenza tra i loro mondi.
Impossibilitati infatti, dal toccare l'altro a causa delle diverse affinità elementali, Ember e Rime esplorano il potenziale di queste due forze opposte. Ogni livello in Degrees of Separation rappresenta una diversa fase della relazione della coppia, pertanto offre una nuova meccaniche che i due protagonisti dovranno padroneggiare per poter andare avanti. C'è la possibilità per i giocatori di avventurarsi in giocatore singolo o co-op con qualcuno – sia locale sia online – i due protagonisti fanno uso delle proprie abilità elementali per risolvere rompicapi man mano che attraversano svariati e unici mondi.
Ecco nello specifico, le funzionalità di gioco:
Gioco d'avventura a piattaforme 2d: un'esperienza ambientata in un mondo 2d, con uno stile basato sugli aspetti delle contrastanti temperature.
Narrazione innovativa: un viaggio alla ricerca del potenziale dei due protagonisti Ember e Rime.
Rompicapo ambientali: mondi diversi ed enigmi complessi caratterizzano la storia dei due protagonisti.
Gameplay in co-op: possibilità di utilizzare Ember e Rime sia in single-player che in multiplayer co-op.
Livelli non lineari: numerosi paesaggi che introducono meccaniche di gioco nuove, mischiando gameplay, narrativa ed evoluzione dei personaggi.
Ricordiamo che Degrees of Separation arriverà il 14 febbraio su Switch, PlayStation 4, Xbox One e Steam, a 19,99 euro prezzo di 19,99 euro.
L'articolo Degrees of Separation, nuovo trailer con guida al gioco proviene da IlVideogioco.com.
Continua la lettura di Degrees of Separation, nuovo trailer con guida al gioco →