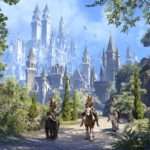 La nuova espansione di The Elder Scrolls Online riporta i giocatori sulla misteriosa isola di Summerset. Bethesda ha infatti annunciato oggi The Elder Scrolls Online: Summerset che offre importanti aggiornamenti di contenuti e funzionalità. Tale espansione arriverà su Pc, PS4 ed Xbox One il prossimo 5 giugno.
Il capitolo di quest'anno porterà i giocatori ad esplorare le antiche terre degli elfi alti per la prima volta dal 1994, anno di pubblicazione di The Elder Scrolls: Arena. Con una nuova zona vasta e piena di vita, una storia epica, nuove abilità dell'Ordine Psijic e l'introduzione di Jewelry Crafting (Creazione di Gioielli), The Elder Scrolls Online: Summerset offre tanti contenuti sia per i veterani sia per i nuovi giocatori.
Il primo trailer di gioco che presenta la zona di Summerset, invece, è qui:
ACCESSO ALL'ISOLA DI SUMMERSET
Per decreto della Regina Ayrenn, l'isola di Summerset è aperta agli stranieri, ma una minaccia daedrica incombe sulla magnifica terra degli elfi alti. I giocatori approderanno sull'isola di Summerset, incontreranno alleati e sventeranno un complotto che minaccia tutta Tamriel.
NOVITA':
Una nuova zona: l'isola di Summerset, una terra bellissima e ancora più grande di Vvardenfell, che era stata introdotta con il capitolo ESO: Morrowind.
Una storia epica: una narrazione che tira le fila degli eventi daedrici raccontati nel 2015 con il dlc Orsinium.
L'Ordine Psijic: per la prima volta in un titolo The Elder Scrolls, potrete unirvi al misterioso Ordine Psijic ed esplorare la città segreta di Artaeum.
Nuova serie di abilità: dominate la magia dell'Ordine Psijic per ottenere nuove abilità di combattimento e controllare il tempo.
Jewelry Crafting: questa nuova abilità permetterà di creare un potente equipaggiamento per i vostri personaggi.
Nuove sfide di gruppo PvE: i giocatori potranno collaborare per affrontare le sfide di Cloudrest, una nuova missione Trial per 12 giocatori, oltre a nuove missioni Delve, boss e altri contenuti, inclusi gli Abyssal Geysers.
NUOVI CONTENUTI ADATTI A VETERANI E NUOVI GIOCATORI
La struttura in capitoli e il sistema di adattamento dei livelli di The Elder Scrolls Online rendono i nuovi contenuti accessibili a tutti. Sia i fan di primo livello sia quelli più esperti troveranno in Summerset sfide adatte alle proprie abilità e potranno giocare in gruppo per esplorare e conquistare nuove zone e scoprire nuove storie.
Nuovi giocatori possono creare un personaggio e giocare subito a ESO: Summerset senza la necessità di completare i contenuti di ESO precedenti. Un nuovo tutorial e una zona iniziale li prepareranno alla missione per salvare Tamrierl dalla cospirazione daedrica.
Giocatori attuali possono aggiornare il gioco a ESO: Summerset e portare i personaggi esistenti nella nuova zona oppure iniziare da zero con un personaggio nuovo. Grazie ai nuovi contenuti per i gruppi e alle storie da scoprire, Summerset è perfetto per il fan di ESO che desidera approfondire la conoscenza del mondo di The Elder Scrolls.
 BONUS DI PRENOTAZIONE E ACCESSO IMMEDIATO A ESO
Grazie alle numerose opzioni di prenotazione e acquisto anticipato, i giocatori possono ottenere ricompense e accesso immediato ai contenuti di ESO attuali subito dopo l'acquisto del gioco. A seconda della versione acquistata, è possibile sbloccare interessanti bonus di gioco o perfino accedere istantaneamente al gioco base di ESO o all'imponente capitolo dell'anno scorso, ESO: Morrowind.
Per dettagli su prenotazione e acquisto anticipato di Standard Edition (Edizione Standard), Upgrade Edition (Edizione Aggiornamento) e Collector's Edition.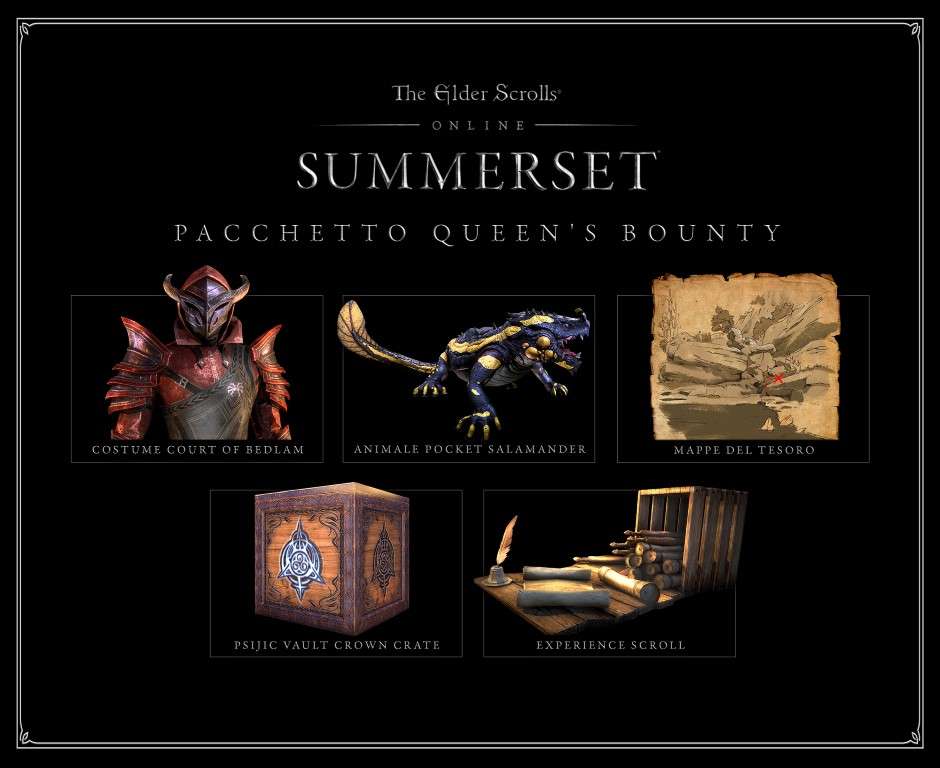 LA SETTIMANA DI GIOCO GRATUITA COMINCIA ORA
Chi non vuole aspettare e desidera esplorare il mondo di gioco può giocare al gioco di base gratuitamente e per un periodo limitato a partire da oggi. L'evento gratuito di ESO inizia oggi su Pc/Mac e PlayStation 4 e domani su Xbox One. L'evento di gioco gratuito fornisce accesso ai contenuti del gioco di base fino al 27 marzo.
Per iniziare, visitate la pagina dell'evento e seleziona la tua piattaforma, oppure visitate https://www.elderscrollsonline.com/en-us/news/post/26335  per maggiori informazioni.
L'articolo Annunciato The Elder Scrolls Online: Summerset sembra essere il primo su IlVideogioco.com.
Fonte: Annunciato The Elder Scrolls Online: Summerset