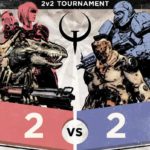 Manca una settimana all'atteso QuakeCon 2018, e Bethesda ha voluto farci sapere che nel corso della kermesse potremo vedere in azione a livello agonistico sia Quake Champions che The Elder Scrolls: Legends grazie a due tornei dedicati particolarmente importanti per la scena sportiva di entrambi i titoli.
Per quanto riguarda TESL, la Masters Series di giovedì 9 e venerdì 10 vedrà sfidarsi i 16 migliori giocatori del mondo, con un montepremi che arriva fino a 50.000 dollari. La finalissima avrà luogo venerdì 10 agosto alle 17:15 ora italiana. I fan presenti al QuakeCon possono seguire la gara nell'arena eSport, mentre tutti gli altri possono seguirla online al canale Twitch apposito.
Parlando invece di Quake Champions, Il torneo di quest'anno riunirà alcuni tra i giocatori professionisti migliori del mondo, inclusi Rapha e DaHanG di Team Liquid, per fare squadra e affrontarsi nel deathmatch 2 contro 2 per un montepremi di 175.000 dollari. La gara inizia venerdì 10 agosto, mentre le finali si terranno sabato sera. I giocatori delle prime otto squadre 2 contro 2 si affronteranno in solitaria contro alleati e nemici in un duello 1 contro 1, in cui il vincitore assoluto si porterà a casa gloria e fortuna, nella misura di altri 25.000 dollari. Questa intensa competizione tra duellanti inizierà sabato 12 agosto, e sarà disponibile in diretta presso l'arena eSport del QuakeCon oppure, di nuovo, su Twitch.
L'articolo Al QuakeCon 2018 si terranno due tornei per Quake Champions e The Elder Scrolls Legends proviene da IlVideogioco.com.
Fonte: Al QuakeCon 2018 si terranno due tornei per Quake Champions e The Elder Scrolls Legends