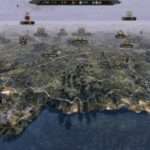 Oggi è il gran giorno di A Total War Saga: Thrones of Britannia. Lo strategico a tema storico di SEGA e Creative Assembly è disponibile, infatti, su Pc.
Thrones of Britannia fa vivere agli appassionati l'intenso periodo storico successivo alla battaglia di Edington dell'878 d.C. che ha sancito la vittoria di Alfredo il Grande sugli invasori vichinghi. Nei panni dei Vichinghi, dei clan gaelici, delle tribù gallesi o degli Anglosassoni, i giocatori saranno impegnati in campagne di conquista e di costruzione di un impero nella mappa più dettagliata della storia di Total War.
Ecco il nuovo trailer del gioco. Buona visione:
"La nostra filosofia di design per questo primo episodio di Total War Saga si è concentrata soprattutto sul reinventare e mettere a fuoco le meccaniche di gioco, partendo da quelle classiche di Total War, consolidandole per dare più offrire più scelte significative ai giocatori –  ha dichiarato il direttore dei lavori Jack Lusted – abbiamo voluto che tutte le componenti fossero legate tra loro in modo naturale e coinvolgente, in grado di rappresentare e raccontare fedelmente un particolare momento storico".
A Total War Saga: Thrones of Britannia è disponibile su Pc da oggi e può essere comprato su Steam, oppure presso i rivenditori digitali autorizzati. L'Edizione Limitata è disponibile presso i rivenditori locali autorizzati.
Per celebrare il lancio, Creative Assembly ha collaborato con Osprey Publishing per fare un regalo a tutti gli utenti, vecchi e nuovi, di Total War Access. Effettuando l'accesso o creando un nuovo account, infatti, gli appassionati di storia potranno ottenere l'ebook gratuito Viking Warrior Versus Anglo-Saxon Warrior (England 865 – 1066) di Gareth Williams, un confronto accurato, e illustrato, tra le armi, le strategie, le tattiche e l'organizzazione militare di Anglosassoni e Vichinghi.
L'articolo A Total War Saga: Thrones of Britannia è disponibile sembra essere il primo su IlVideogioco.com.
Fonte: A Total War Saga: Thrones of Britannia è disponibile